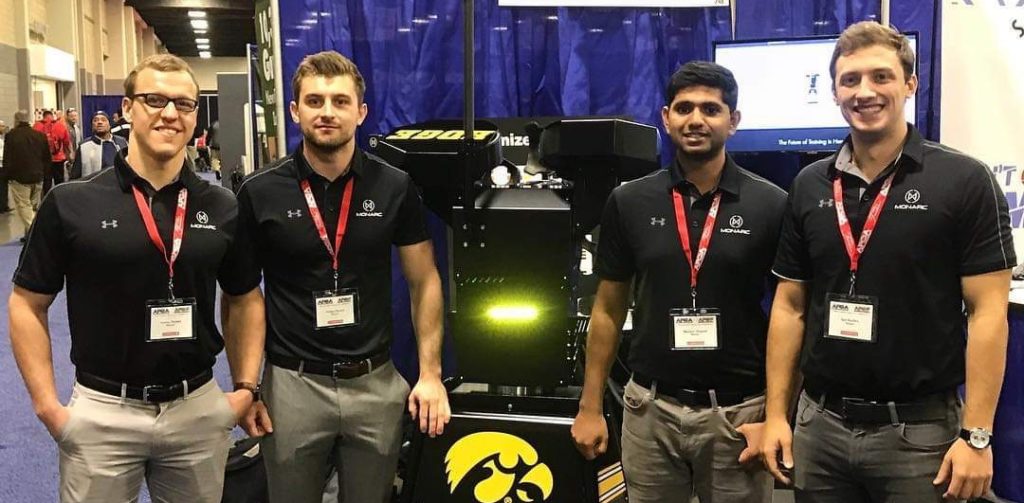 Spring 2019 Alumni Worth Knowing Spotlight
Nathan Pierotti '12 and Sawyer Theisen '12, classmates and entrepreneurs taking tech to the playing field.
Q: Nate, tell us about yourself and the work you're doing.
A: I grew up attending Holy Family schools my entire academic career and graduated from Wahlert in 2012. During my senior year of
high school, I took AP Physics, which was my initial introduction into engineering, and ultimately the impetus for choosing electrical and computer engineering as my major at the University of Iowa.
At Iowa, a conversation with fellow Wahlert classmate Riley McCarron '12 about dated equipment in the football program led me to the concept of robotic sports machinery. That was the beginning of Monarc.  The idea was to modernize athletic training equipment by coupling internet-connected robots with wearable technology – a concept that could be applicable across many domains that we will continue to explore.
I became the company's CEO and developed many of the embedded systems and software that run on our machines. After a couple of years in development, we have launched our first product: the Seeker – the world's first robotic quarterback.  We are currently marketing the Seeker to NFL and college teams.
Q: Sawyer, tell us about yourself and your involvement with Monarc.
A: I was born and raised in Dubuque, surrounded by great role models who challenged me to always give my best in both academics and athletics. I started both ways my junior and senior year (linebacker and offensive line) at Wahlert and I always left everything I had out on the field for my teammates. I was always a good student and when I decided I didn't want to continue playing football at the collegiate level, I chose to attend the University of Iowa and it was one of the best decisions of my life. I had an amazing time at Iowa where I came in an open major and left with my degree in accounting. My mother is the smartest person I know. When I asked her what I should do, she said, "if you don't know, study accounting. You can do virtually anything with an accounting degree." Although I didn't end up using my accounting degree after college, my mother was correct; it opened a lot of doors and taught me the necessary study habits and hard work it takes to be successful.
Nate and I have been close friends since Mazzuchelli Catholic Middle School. Over the years, we have developed a high level of trust and an uncommon agreement to be radically transparent as friends – and now as business partners. I had some experience in sales and we always dreamed of working together. So, when the opportunity arose, thankfully Nate asked me to join the Monarc team. As sales and marketing director, I create content and reach out to teams on behalf of Monarc, touring the country to make our pitch and manage our accounts.
Q: Nate, what inspired your interest in engineering?
A: I think my initial interest in engineering stemmed from participating in AP Physics at Wahlert, and honestly, feeling a bit inferior to the rest of my classmates. I enjoyed the principles that we learned during class and I wanted to excel at it and prove to myself that I was capable of solving difficult problems. Attending Iowa and stumbling into Monarc gave me the opportunity to prove that to myself.  I'm very fortunate and very thankful that my teachers at Wahlert pushed me to push myself and that my experience at the University of Iowa was similar.  Passing that AP test changed my life forever!
Q: Sawyer, what is your favorite thing about being involved in a start-up company?
A: I love the flexibility it provides, along with the unique challenges. Every day with the start-up is dynamic and it keeps me engaged and constantly putting my best effort forth. The opportunity to work and build something of our own with close friends is an amazing experience that I'd recommend to anyone considering entrepreneurship in their future. It will be both the hardest and most rewarding thing you'll do!
Q: Nate: what do you find most fascinating or rewarding about your work?
A: I appreciate knowing how our work affects people we don't even know. For example, we could be traveling and meet someone for the first time who has heard of Monarc and supports what we're trying to accomplish.  The fact that it all started as an idea – a concept on paper – to random people around the country supporting what we do is very neat.
It's also amazing when we see athletes using and genuinely enjoying the Seeker. They see the value and they're glad that something now exists that meets their needs. That has been very rewarding.
Q: How do you both feel Wahlert Catholic prepared you for the road ahead?
A: (Nate): Aside from the academic component, growing up in Catholic schools taught me how to treat others and be disciplined. Those are two things that are in everyone's control and can go such a long way in the real world.
A: (Sawyer): Wahlert provided me with a great set of values and connected me to the best friends I will ever have. I learned to live life with unshakable integrity in both my personal and business life. I was taught to work harder than everyone else, push myself beyond my comfort zone, and to treat everyone I encounter with love and respect. I try to develop strong relationships, hoping to leave everyone feeling better than when we met.
Q: So, Nate, what's next?
A: We will continue to grow Monarc to get the Seeker into as many hands as possible. In addition, we plan to use the combination of wearable technology and internet connected devices to branch into other sports and possibly past sports altogether. Aside from Monarc, I hope to continually be involved in creating new products and helping students in any way that I can.