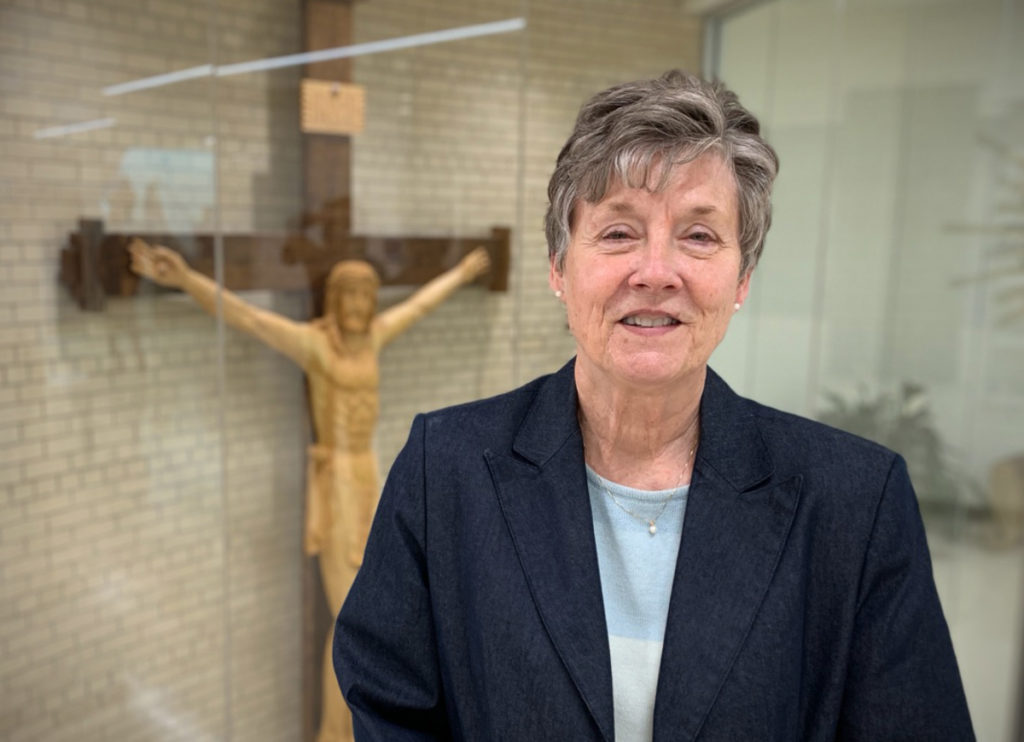 Wahlert Catholic High School Announces the Retirement of Long-Time Assistant Principal, Cindy Wagner
After 44 years of service to Wahlert Catholic High School, Assistant Principal Cynthia Wagner has announced her plans for retirement at the end of the 2018-2019 school year.
Ms. Wagner began teaching at McDonell Central Catholic High School in Chippewa Falls, Wisconsin, just two years before returning to her alma-mater, Wahlert Catholic High School, where she would spend the remainder of her career.  She began her tenure at Wahlert Catholic in 1975 as a chemistry teacher and coach, assisting with women's six-on-six basketball as well as track and field.
In 1976, Ms. Wagner was offered the opportunity to coach a new women's cross country team, which she eagerly accepted. "When I graduated from Wahlert in 1969, there were only two opportunities for ladies to participate in sports. They were golf and tennis," she recalled. "I was excited for the chance to help provide more opportunities for young women," she said.
In 1994, Ms. Wagner was asked by principal Don Miller to serve as a school dean, helping to oversee student discipline in addition to her teaching responsibilities – a responsibility that remains a component of her job today.
Ms. Wagner became assistant principal when Holy Family Catholic Schools was formed in 2001. She stopped coaching basketball and track but continued to lead the women's cross country team.
"I always loved teaching," said Ms. Wagner, reflecting on her years and various roles at Wahlert. "It was a daily reward to see students thinking, working hard and understanding new concepts. That was one of the most difficult parts about starting the assistant principal job," she said.
Ms. Wagner also expressed the appreciation she has for working with teachers. "I enjoy witnessing the ways they engage students. They are so clever in their teaching styles, always delivering concepts in interesting ways."
She is also thankful she's had a place to live out her faith and to be part of a larger, supportive faith community.
Holy Family Chief Administrator Carol Trueg says she has been blessed to know Ms. Wagner as her chemistry teacher, basketball coach and colleague. "She is a tremendously hard worker who has always put others' needs above her own. Wahlert Catholic High School is a much better place because of Cindy's dedication."
Principal Ron Meyers considers Ms. Wagner one of the Wahlert greats.  "Hanging in my office is a sketch of seven staff members, referred to as the 'Magnificent 7,'" he said.  "Now we have the opportunity to add an eighth member to that group. Like those seven, Cindy's life-long dedication to the Wahlert Catholic community, her work ethic, values, faith and academic tenacity have helped set the course for thousands of students from the tri-state area for decades.  What an impact these individuals have made on our world."
Cynthia will return as the head coach for the 2019 cross country season, her 43rd year coaching the women's team.  Plans for her replacement will be announced in the coming weeks.