Three Holy Family Administrators Announce Plans to Retire
It is with heartfelt appreciation and deep respect that today I announce the planned retirements of three esteemed colleagues and Holy Family school administrators at the conclusion of the 2021-2022 school year.
On behalf of the entire Holy Family Catholic Schools community, I want to express my sincere gratitude to Principals Ron Meyers of Wahlert Catholic High School, Barb Roling of St. Columbkille Elementary, and Carolyn Wiezorek, Ed.D., of Our Lady of Guadalupe Spanish Immersion School. The work of these individuals will continue to live on in the lives of countless students and staff members they have impacted and the legacy of the schools they have led.
A 1979 Wahlert Catholic High School graduate himself, Ron Meyers has served as the school's principal for the past 12 years. Before returning to Wahlert, he served as the assistant principal at Dowling Catholic High School in Des Moines. In total, Ron has dedicated 35 years to education, including 10 years as an elementary school teacher and 10 years as the technology director for Des Moines Public Schools.
I think it is easy to say that returning to my alma mater to serve as the school's fifth principal has been my greatest accomplishment. I've been fortunate to help foster a number of initiatives that have reignited community pride in Wahlert – reintroducing traditional branding in school uniforms, implementing block scheduling, introducing Kairos, developing a solid college and career readiness curriculum, and celebrating with our student-athletes in 22 State championships during my tenure. Without question, I am most excited about the renovation and revitalization of the Wahlert Catholic campus in 2016.
I have had the opportunity to work with some of the most dedicated professionals in my work at Holy Family. Their generosity, flexibility and compassion for children cannot be matched. I am truly thankful for the relationships I have, and I will cherish these fine people forever.
I am very pleased to share that Barb Roling has agreed to continue her ministry with Holy Family next school year in a part-time special projects role. Part of her focus will be supporting the transition and onboarding of her successor and the other new administrators. Barb has spent her entire 34-year career in Catholic education, teaching at several Holy Family schools as well as St. Francis Xavier in Dyersville. This is her 19th year as principal of St. Columbkille Elementary.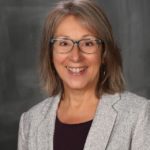 As I reflect on my years as principal, I recognize the conscious transformation of St. Columbkille Elementary and Holy Family Catholic Schools to meet the needs of our students and their families. When I started, we were a K-8 school, but we soon chose to become a K-5 school with a strong preschool and Pre-K. This was an intensive process for faculty and staff, but we were guided with prayer and faith in God's presence. What's best for kids was, and continues to be, our constant focus at St. Columbkille. It has been an honor and privilege to have worked alongside so many dedicated, talented, child-centered and caring teachers, staff, administrators and priests at St. Columbkille and Holy Family. Our system is strong and vibrant because of these wonderful people. I have been blessed with supportive, encouraging parents and amazing children who love to learn!
I am excited to be even more deeply present to my growing family. My husband Jerry and I have eight beautiful grandchildren (the youngest is just two months old) and children living in Davenport, Indianola, San Francisco and Seattle. So, we have some traveling to do!
Carolyn Wiezorek is completing her third year as principal of Our Lady of Guadalupe Spanish Immersion School. She has held various elementary teaching positions in her 36-year education career, including teaching at St. Anthony for six years and serving as the Talented and Gifted program coordinator at Sageville Elementary. Principal Wiezorek also served as an associate professor of education at Clarke University before returning to Holy Family. Her youngest daughter, Samantha, was among the first graduates of the Our Lady of Guadalupe Spanish immersion program.
I am overwhelmed thinking about how much I have loved working at Our Lady. It is such a positive and interesting place to be. I have felt connected to this school since its inception and feel proud of my humble contributions to its phenomenal success. My experiences with Holy Family Catholic Schools in roles of teacher, parent and principal, have given me opportunities to surround myself with others who view education as a calling. This level of commitment and elevated sense of purpose not only compelled me to work harder but also to enjoy and appreciate every day. For this, I am eternally grateful.
As we enter the new year, Holy Family will form hiring committees to evaluate qualified candidates and oversee the hiring process for all three positions. We will actively seek family-centered, faith-filled leaders with a track record for excellence in education to begin serving in the 2022-2023 school year. Interested candidates will be directed to apply through www.teachiowa.gov.
May God continue to bless these servant leaders, their families and Holy Family Catholic Schools.
Yours in Christ,
Phil Bormann, Chief Administrator
Hiring committees will be established in the new year to evaluate qualified candidates and oversee the hiring process for all three positions to begin serving in the 2022-2023 school year. Interested candidates will be directed to apply at www.teachiowa.gov.