Holy Family Announces New Mazzuchelli Catholic Middle School Principal
Holy Family Catholic Schools is pleased to announce the appointment of Daniel Thole to serve as the next principal of Mazzuchelli Catholic Middle School starting in the 2022-2023 school year. Mr. Thole will replace current Mazzuchelli Principal Doug Varley as he transitions to Wahlert Catholic High School as Associate Principal/Dean of Students, effective July 1.
This transition represents a return to the Dubuque area for Mr. Thole, who grew up in Dyersville attending Beckman Catholic High School before matriculating to Loras College, where he studied Mathematics / Secondary Education and Catholic Studies. He later earned his Master of Science degree in Educational Leadership with a concentration in Catholic Secondary Education Leadership at Creighton University.  
Continuing the theme of his own education, Mr. Thole has spent his entire career in Catholic schools, previously teaching at Dowling Catholic High School in Des Moines and serving as an administrator at Cedar Valley Catholic Schools in Waterloo. He currently serves as principal at Christ the King Catholic School in Des Moines through the end of the current school year.
Please join us in warmly welcoming Mr. Thole to Mazzuchelli Catholic Middle School and the Golden Eagles community!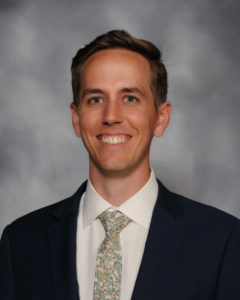 A Note from Daniel Thole
I grew up in Dyersville, my wife grew up in Dubuque, and we both went to Loras College. Dubuque is our home, and having just been blessed with our second child, Benedict, in March and our oldest child, Lucy, at age three, we felt the time was right to raise our family back home.
I believe in the Catholic school community in Dubuque, and it's very familiar to me. I'm excited to serve in ways that ensure we are thriving in the coming years and decades. The message of the Gospel through Catholic teaching is as vital today as it has ever been, and our schools have a vital role to play in making sure we are properly forming our students through Catholic teachings.
Though I have enjoyed serving at Christ the King School, this professional opportunity combined with the value to my family was very exciting. This was an unexpected opening, but God acts in mysterious ways!