Elementary Facilities Planning
Background
On September 3, Chief Administrator Phil Bormann shared a comprehensive picture of Holy Family's financial and facility needs during a strategic planning community meeting. The presentation detailed factors that have led the Holy Family Board of Education to consider three proposals that could change the way we serve our elementary students at fewer campuses in the future.
In consideration of the following three elementary proposals, Holy Family is conducting an in-depth community engagement process to develop a planful course of action that will ensure the vibrant future of Holy Family Catholic Schools in Dubuque for generations to come. We invite the community to join us in evaluating these important considerations.
Elementary Plan Proposals
Proposal 1: Transitioning Holy Ghost K-5 students to Resurrection, St. Columbkille or St. Anthony
Proposal 2: Transitioning St. Anthony K-5 English program students to Resurrection, St. Columbkille or Holy Ghost
Proposal 3: Transitioning both Holy Ghost and St. Anthony at the same time
Why Now?
Though these considerations may feel new to the community, the Holy Family Board of Education has been monitoring factors leading to these proposals for a number of years.  As enrollment at Holy Ghost and St. Anthony began to dip below 100 students five years ago, we began evaluating potential options and working on strategies to reverse the trend.
The graphic below highlights the results of a survey of board members and Dubuque deanery priests in 2017.  It was clear that continuing with the status quo at elementary would not be prudent.  These sentiments have been reaffirmed in recent discussions with the two groups and highlight the reasons we are now discussing these factors with our community in earnest.
Excerpt from a 2017 Survey of Board and Priests (on a scale of 1-10, with 10 representing high agreement):

Leading Factors in Consideration
Meeting the Needs of Our Students:


Holy Ghost and St. Anthony elementary schools have both reached unsustainable enrollment levels, serving below 100 students at both campuses in recent years. With this clear downward trend in enrollment, we know we must evaluate our options for the future so we can ensure equitable access to spiritual, academic, and co-curricular opportunities for all Holy Family elementary students.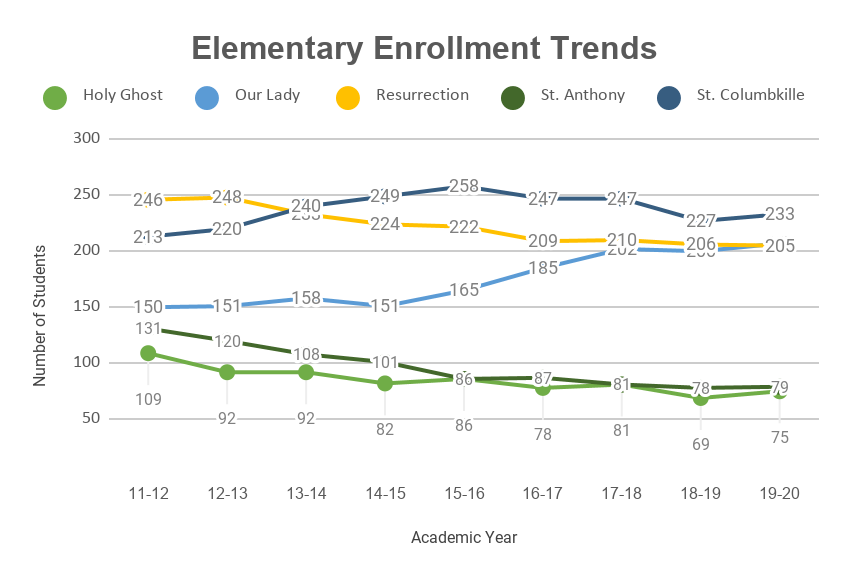 Enrollment Impact on Cost to Educate:
The cost-to-educate formula is the su

m of a school's total expenses divided by the number of students enrolled at the school.  This means that enrollment is the primary factor in a school's

cost-to-educate.  As enrollment continues to decline, cost-to-educate at Holy Ghost and St. Anthony continues to increase – outpacing every other school in the system, as well as the Catholic school national average, to a significant degree. With this data, we know we must steward our financial resources more cautiously to ensure a vibrant future for Catholic education in Dubuque for generations to come.
Elementary Cost to Educate: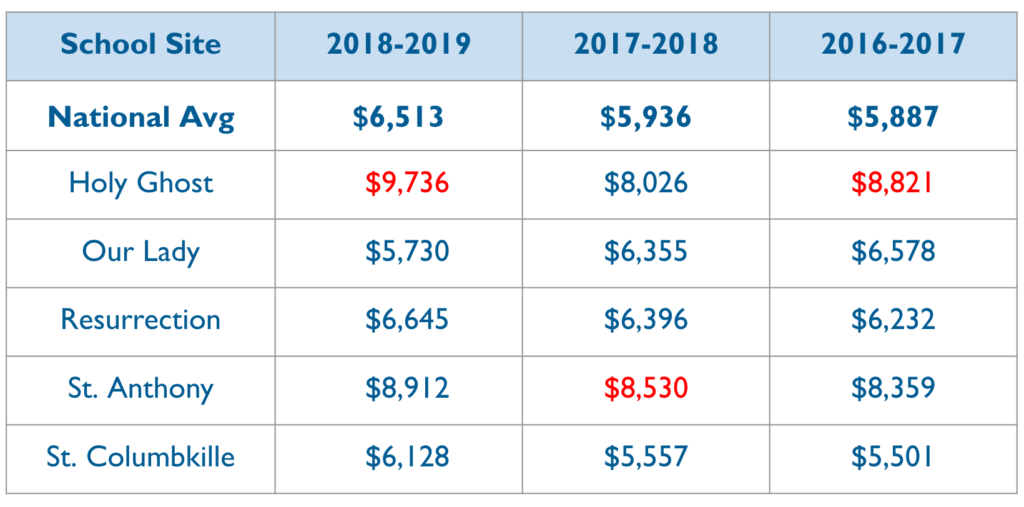 A Plan for Facilities Improvements:


As we face significant facility-improvement needs throughout our elementary schools, it is important that we make planful long-term investments in each of those campuses. Uncertainty surrounding our elementary schools has delayed this planning process and many necessary improvements.  By creating a clear path forward, we will bring focus to the plan for facility renovation and redevelopment.

The images to the right demonstrate the continual decline in the condition of our elementary facilities. The first image demonstrates the condition of facilities in 2016 as reviewed by the Holy Family facilities committee and our head of maintenance.  Green indicates excellent condition, yellow indicates a need to monitor and repair in time, and red indicates a pressing need for updates and repairs within the next five years.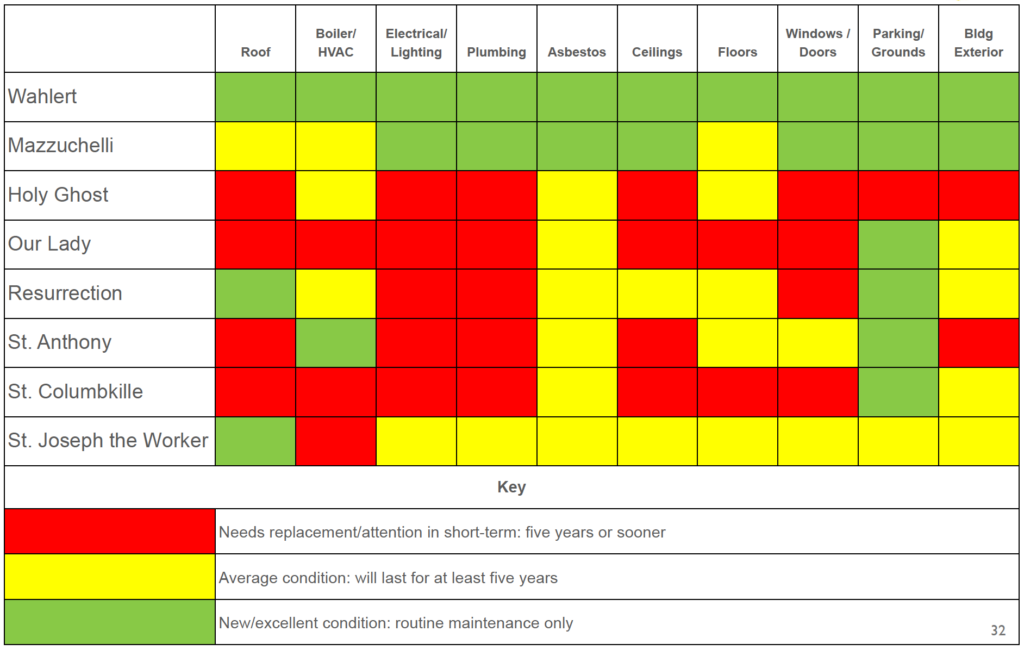 Our Commitments to Our Community:
Families
No matter what decision is made, Holy Family is committed to supporting families making a transition in every way possible.  This includes investigating our options to ensure transportation services be made available to Holy Ghost and/or St. Anthony students in the event it is needed. Personal tours and community open house opportunities will be arranged. We will work with families one-on-one to help them find the right school(s) for their children and address any challenges they may face. Our doors are open and we welcome families to reach out with their questions and concerns at any time.
Staff
Holy Family is committed to doing all we can to maintain as many of our faculty and staff as possible throughout this process. We recognize the importance of our commitment to the dedicated men and women who care for, guide and teach our students. The board will consider all creative solutions such as the possibility of an early retirement package, to support the alignment of needs with natural attrition.
Parishes
Holy Family is committed to supporting the vibrancy of our parish communities by maintaining the presence of our elementary schools on Church grounds where possible. We are also committed to being good stewards of the financial resources of our parish benefactors while working to create parish-assessment relief.
Frequently Asked Questions:
Timeline and Community Engagement Opportunities:
We value the varied perspectives of our community. Please join us for an upcoming community meeting and share your input via the form below.
September
Community Meetings
Holy Family
Faculty and Staff – Wednesday, September 4, at 3:45 p.m. in the Wahlert Catholic High School theater
Parents – Thursday, September 12, at 6:30 p.m. in the Wahlert Catholic Gymnasium
St. Anthony Parish Community
Parish Council – September 18
HG Parish Community
Parish Council  – September 19
St. Anthony Elementary School Community Meeting
Monday, September 23, 6:30 p.m.
St. Anthony Literacy Center
Holy Ghost Elementary School Community Meeting
Thursday, September 26, 6:30 p.m.
Holy Ghost Gymnasium
October
Board of Education Consideration
The Board of Education will consider all input and make a final decision that will impact the 2020-2021 school year at the October 15, 2019 board meeting.
2020–2021 Transition
For more information about the next steps and planning for the 2020-2021 transition, including frequently asked questions, upcoming dates, and more, please visit our Elementary School Transition Planning page.
Thank you for your input
The elementary facility proposal community input form has closed.