All the School News You Need
This is your one-stop for all school news.  Start by checking the Holy Family news below for system-wide updates. Then, select your school(s) from the menu above to find all the news you need to know in one convenient spot.
Holy Family News:
20-21 Elementary Transition Resource Page
Holy Family has created a webpage that will serve as a hub for up-to-date transition resources for families at each of our elementary schools, including important information and dates, upcoming events, and frequently asked questions. The webpage will be updated as new information becomes available and as developments occur. These developments will also be shared through other communication channels such as email and social media.
>> Visit the Transition Resources page
Wahlert Catholic Performing Arts Musical Theatre Bonanza
Join us for a cabaret-style night of song featuring performers from first-year students to seniors.
LOCATION:
The performance will be held on the Wahlert Gymnasium Stage - Wahlert Catholic High School.
DATES/TIMES:
Friday, November 15th, 2019 – 7:30 p.m.
Saturday, November 16th, 2019 – 7:30 p.m.
TICKET INFORMATION:
Adults/Students: $5
Tickets available at the door 60 minutes before curtain
Doors open 30 minutes before curtain
Register Now for the 47th Annual Thanksgiving Day Turkey Trot
Whether you're an avid annual trotter or thinking about running for the first time this year, the annual Turkey Trot is a must-do Thanksgiving tradition!
By pre-registering, you'll have the opportunity to reserve your Turkey Trot t-shirt and save time on the day of the race. Online registration closes on Sunday, Nov. 24, at midnight!
The race starts at 9 a.m. on Thursday, Nov. 28. Participants may choose a two-and-a-half-mile or five-mile course. Registration is $10 and long-sleeved t-shirts are available for purchase ($20). A certificate for a frozen turkey will be awarded to the first-place finisher in each age division. Runners age 6 and up are welcome! This year, K–5 runners have the chance to earn a free registration. See below for more details.
In-person registration will also be held in the Wahlert Catholic High School gym from 7–8 p.m. on Wednesday, Nov. 27 and 7:30–8:45 a.m. Thursday, Nov. 28.
>>Learn more and register online!
K–5 students: Join the Turkey Trot Running Club and earn a FREE Turkey Trot entry!
We will be offering free running sessions for Holy Family elementary (K–5) students for two weeks in November.
Sessions will meet in the St. Anthony gym/lobby and running will take place on the St. Anthony/OLG running track. Times will be from 3:45–4:45 p.m. on:
Wednesday, Nov. 13
Thursday, Nov. 14
Monday, Nov. 18
Wednesday, Nov. 20
Thursday, Nov. 21
Monday, Nov. 25
If a student attends three or more of these practice session they will receive a free entry into the Turkey Trot on Thanksgiving Day!
Parents will sign their student(s) in on their first night of attendance. Sessions will be led by Chuck Tigges (Wahlert Boys Cross Country coach, Wahlert Girls Track coach, Physical Education teacher at St. Anthony/OLG and Holy Ghost).
Please be sure to dress your student(s) in outdoor apparel!
>>If you have questions, please contact Chuck Tigges at ctigges@holyfamilydbq.org.
Holy Family Uniform AND Spirit Apparel Holiday Orders
Plan ahead for your holiday shopping and place uniform and spirit apparel orders early to ensure you will receive items in time for Christmas!
Uniforms:
Uniform orders placed by Sunday, November 10 will be delivered by the end of November.
Place your final order no later than Sunday, November 24, to receive items in time for Christmas.
Another order will be processed on December 10, with expected delivery the first week of January.
Please be sure to indicate in the comments if items are for a gift!
Uniforms are also available for purchase through Lands' End School and have an average turn-around time of 5-7 business days.
Spirit Wear:
Place your Spirit Store orders no later than Monday, December 2, to receive items in time for Christmas.
>>Visit our uniform e-store or Spirit Store to view our options and to place an order. 
Join Us for "Cookies and Carols"
Saturday, Dec. 7, from 10:00–11:30 a.m. at St. Anthony Elementary School
Families with Pre-K and Kindergarten students are invited to join in the Christmas spirit with caroling, puppet theater, cookie decorating and hot chocolate.
>>RSVP requested. Please call 563-556-2820.
Golden Eagles Wrestling Club
Folkstyle, Freestyle, and Greco Roman wrestling. Fall / Winter Training Schedule 2019-2020:
Session 1: Nov. 5 – Dec. 19, 2019
(Holiday schedule – off on Nov. 28)
Session 2: Jan. 7 – Feb. 27, 2020
* When school is canceled for weather, practice will also be canceled.
Schedule: Tuesday, and Thursday nights from 6:00–7:15 p.m.
Age: K–8th grade
Location: Wahlert Catholic High School Wrestling room
Cost: $60 per session, or $100 for both. Sibling discount – buy one get one 50% off
How to Join: Fill out a waiver and show up for practice. Sign in each day before practice. Attendance prizes will be awarded at the end of the year pizza party. Each practice attended gives you an additional chance to win at the end of the year drawing for a number of prizes including a game counsel of your choice.
Curriculum: This session will include Folkstyle techniques, tactics, and training. The practices will contain a mixture of technique, live wrestling, as well as strength, conditioning, and gymnastic exercises.
Meet the Coaches:
Wil Kelly – Wrestled at Wartburg College and U of Iowa
Brit Barstow – Wrestled at Wartburg College
Dan Wagner – Wrestled at the University of Dubuque
Questions: Contact coach Kelly 319-504-3008 – Texts are great otherwise
call after 5:30 p.m. Monday–Friday.
What's this STO all about?
It's about supporting Catholic education in the Archdiocese of Dubuque and making the most out of your charitable contribution. If you file an Iowa income tax return, your contributions to the Our Faith School Tuition Organization (STO) qualify for a 65% tax credit. That means for every $1000 you donate, you receive an Iowa income tax credit $650, which reduces your Iowa tax liability by $650. Seriously, a $1000 contribution reduces your Iowa tax liability by a whopping $650!
>>Visit OurFaithSto.org or call the Archdiocese of Dubuque at 800-876-3546 ext. 219 or 307 to learn more.
Holy Family Personalized Learning News & Updates:
Personalized Learning Q&A
To support a greater understanding of Holy Family's unique personalized learning philosophy and academic vision, our summer Personalized Learning Q&A series addressed frequently asked questions and common misconceptions. Here we'll share some of the questions we've frequently heard our answers. As always, our school principals are happy to chat if you have further questions about personalized learning at Holy Family!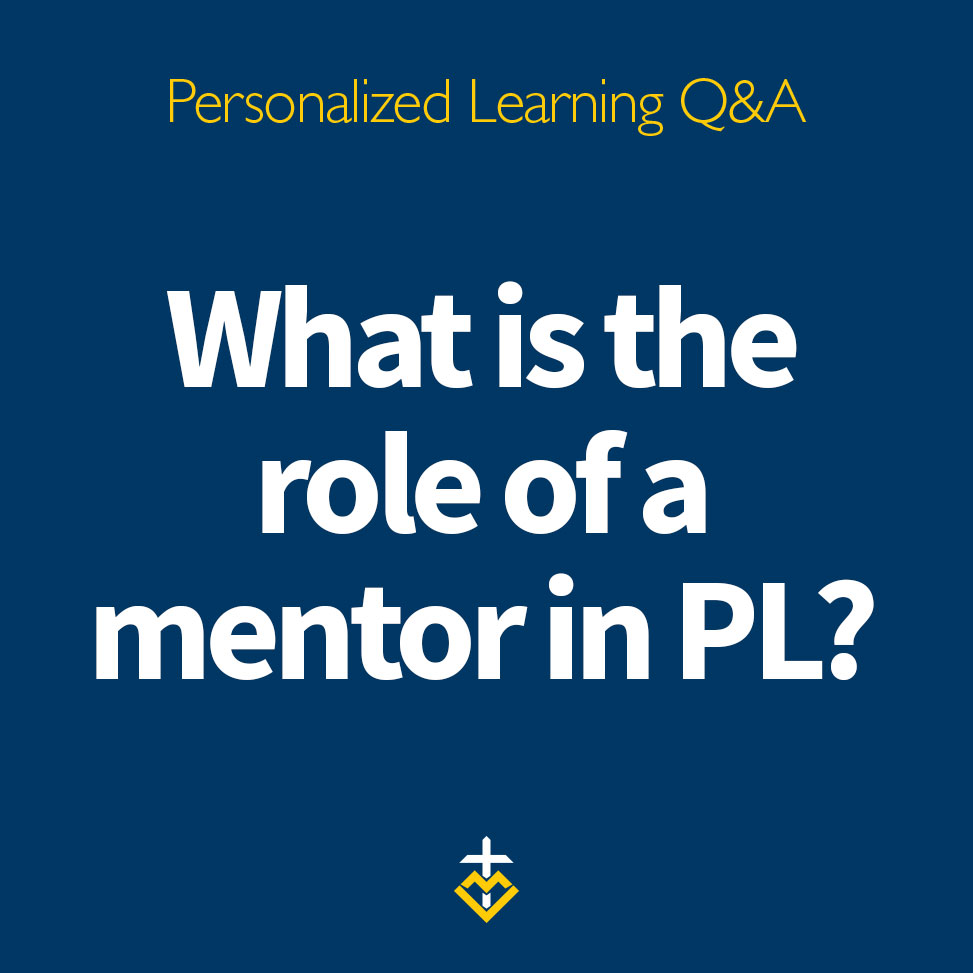 One-on-one mentorship fosters a sense of connectedness and trust among our students and the adults at their school. Every student is paired with a mentor who will act as their advocate both inside and outside of the classroom through the duration of their years at each school. Mentors can be teachers, counselors, or principals who meet one-on-one with their student mentees for at least ten minutes each week, throughout the school year. With the consistent support of a trusting adult, students are empowered to set and achieve both short- and long-term academic and personal goals. Mentors also serve as a trusted guide and partner for parents at their child's school.