All the School News You Need
This is your one-stop for all school news.  Start by checking the Holy Family news below for system-wide updates. Then, select your school(s) from the menu above to find all the news you need to know in one convenient spot.
Holy Family News:
FREE Golden Eagle Youth Cross Country Run – Friday, October 18

Students in grades 4–8 are invited to take part in the 2019 Golden Eagle Youth Run on Friday, October 18, at Veterans Memorial Park (East of Wahlert Catholic High School). This one-mile, FREE race is hosted by the Wahlert Catholic Cross Country teams. Register online or register in-person on the day of the race.
3:30 – 4:15 p.m. Registration
4:15 p.m. 4th/5th/6th Grade Girls Race
4:30 p.m. 4th/5th/6th Grade Boys Race
4:45 p.m. 7th/8th Grade Girls Race
5:00 p.m. 7th/8th Grade Boys Race
Ribbons will be awarded to the top 15 finishers in each race, and participation ribbons to all runners.

FREE Wrestling Camp for children ages 5-12
Learn to be a Ninja by learning wrestling skills, fun games, building confidence and so much more! For more information, contact Wahlert Catholic wrestling coach Joel Allen at jallen@holyfamilydbq.org.
Camps will be held at:
Resurrection – October 9-10
St. Columbkille – October 16-17
St. Anthony/OLG – October 23-24
All kids are free to attend any location regardless of their school affiliation.
Wahlert Catholic Drama Presents Little Shop of Horror
Wahlert Catholic High School drama will present four public performances of Little Shop of Horrors. Tickets will be $10 and are available to purchase online at wahlertcatholicarts.org.
Public performances will be held at the R.C. and Celeste Wahlert Theatre at Wahlert Catholic High School, 2005 Kane Street, Dubuque on:
Thursday, October 24 at 7:30 p.m.
Friday, October 25 at 7:30 p.m.
Saturday, October 26 at 7:30 p.m. and
Sunday, October 27 at 2:00 p.m.
The meek floral assistant Seymour Krelborn stumbles across a new breed of plant he names "Audrey II" – after his coworker crush. This foul-mouthed, R&B-singing carnivore promises unending fame and fortune to the down and out Krelborn as long as he keeps feeding it, BLOOD. Over time, Seymour discovers Audrey II's out-of-this-world origins and intent towards global domination!
>>Purchase Tickets at wahlertcatholicarts.org
Join us for the Holy Family Community Showcase at the Mazzuchelli and Wahlert campus
On Thursday, Nov. 7, 5:30–7:00 p.m., our Holy Family middle and high school campus will be open for all to see the impact a Catholic education has on our students, our community and our larger world. Meet with current students and teachers to discuss how the education received at Holy Family is preparing the next generation to be ethical, engaged and ready to take on their future. Guided tours will be available upon request.
>>Registration is encouraged, but not required. We'd love to see you there! holyfamilydbq.org/communityshowcase
Golden Eagles Wrestling Club
Folkstyle, Freestyle, and Greco Roman wrestling. Fall / Winter Training Schedule 2019-2020:
Session 1: Nov. 5 – Dec. 19, 2019
(Holiday schedule – off on Nov. 28)
Session 2: Jan. 7 – Feb. 27, 2020
* When school is canceled for weather, practice will also be canceled.
Schedule: Tuesday, and Thursday nights from 6:00–7:15 p.m.
Age: K–8th grade
Location: Wahlert Catholic High School Wrestling room
Cost: $60 per session, or $100 for both. Sibling discount – buy one get one 50% off
How to Join: Fill out a waiver and show up for practice. Sign in each day before practice. Attendance prizes will be awarded at the end of the year pizza party. Each practice attended gives you an additional chance to win at the end of the year drawing for a number of prizes including a game counsel of your choice.
Curriculum: This session will include Folkstyle techniques, tactics, and training. The practices will contain a mixture of technique, live wrestling, as well as strength, conditioning, and gymnastic exercises.
Meet the Coaches:
Wil Kelly – Wrestled at Wartburg College and U of Iowa
Brit Barstow – Wrestled at Wartburg College
Dan Wagner – Wrestled at the University of Dubuque
Questions: Contact coach Kelly 319-504-3008 – Texts are great otherwise
call after 5:30 p.m. Monday–Friday.
Registration is Now Open for the 47th Annual Thanksgiving Day Turkey Trot
The 2019 Turkey Trot will take place on Thursday, Nov. 28, at 9 a.m. at Wahlert Catholic High School.
Participants may choose between a two-and-a-half-mile or five-mile course. Registration is $10 and long-sleeved t-shirts are available for purchase ($20). A certificate for a frozen turkey will be awarded to the first-place finisher in each age division.
K–5 students: Join the Turkey Trot Running Club and earn a FREE Turkey Trot entry!
We will be offering free running sessions for Holy Family elementary (K–5) students for two weeks in November.
Sessions will meet in the St. Anthony gym/lobby and running will take place on the St. Anthony/OLG running track. Times will be from 3:45–4:45 p.m. on:
Wednesday, Nov. 13
Thursday, Nov. 14
Monday, Nov. 18
Wednesday, Nov. 20
Thursday, Nov. 21
Monday, Nov. 25
If a student attends three or more of these practice session they will receive a free entry into the Turkey Trot on Thanksgiving Day!
Parents will sign their student(s) in on their first night of attendance. Sessions will be led by Chuck Tigges (Wahlert Boys Cross Country coach, Wahlert Girls Track coach, Physical Education teacher at St. Anthony/OLG and Holy Ghost).
Please be sure to dress your student(s) in outdoor apparel!
>>If you have questions, please contact Chuck Tigges at ctigges@holyfamilydbq.org.
65% Tax Credit Too Good to be True?
Not at all. If you file an Iowa Income Tax Return, your contributions to the Our Faith School Tuition Organization (STO) receive a 65% tax credit. That means for every $1000 you donate, you receive an Iowa income tax credit of $650, which reduces your Iowa tax liability by $650. In addition, your gift may qualify for federal deductibility. And that gift you made? It helps make a Catholic school education affordable for every child, regardless of their families' financial situation. It really is that simple.
>>Visit OurFaithSto.org or call the Archdiocese of Dubuque at 800-876-3546 ext. 219 or 307 to learn more.
Holy Family Personalized Learning News & Updates:
Personalized Learning Q&A
To support a greater understanding of Holy Family's unique personalized learning philosophy and academic vision, our summer Personalized Learning Q&A series addressed frequently asked questions and common misconceptions. Here we'll share some of the questions we've frequently heard our answers. As always, our school principals are happy to chat if you have further questions about personalized learning at Holy Family!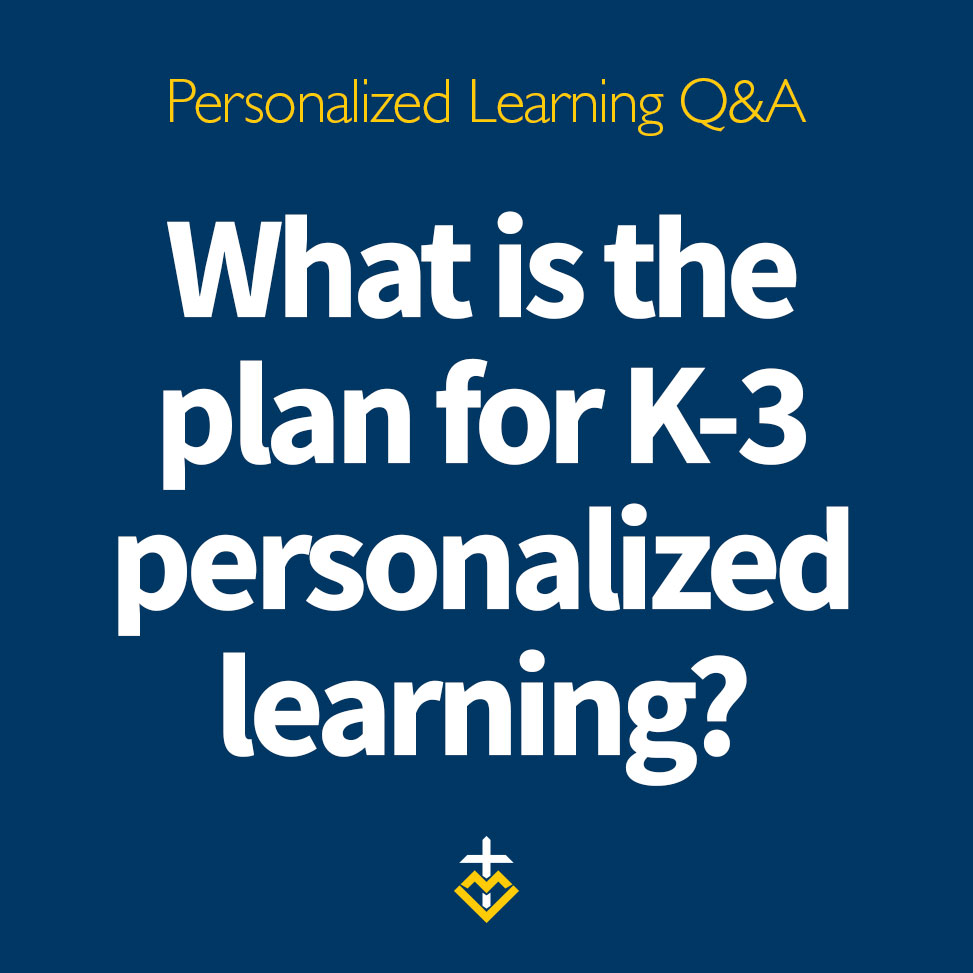 By nature, education in early grade levels is already very personalized, as teachers get to know the various gifts and backgrounds each student brings to the classroom.
Over the course of several years, through in-depth research, and in partnership with our school community, Holy Family will evaluate our options for personalized learning curriculum and resources to best meet the needs of students and families in grades K–3.
We have been asked whether the Summit Learning platform will be used in our K–3 classrooms. While our partnership with Summit provides excellent tools and resources for our students and teachers in grades 4–12, Holy Family is not planning to utilize the Summit Learning platform for grades K–3.