All the School News You Need
This is your one-stop for all school news.  Start by checking the Holy Family news below for system-wide updates. Then, select your school(s) from the menu above to find all the news you need to know in one convenient spot.
Upcoming Dates:
Jan. 7–Feb. 27 – Little Eagles Wrestling Club Session 2
March 2, 3 p.m.  – Quick Cash Raffle Drawing LIVE on Facebook
March 9, 3 p.m.  – Quick Cash Raffle Drawing LIVE on Facebook
March 16, 3 p.m.  – Quick Cash Raffle Drawing LIVE on Facebook
March 23, 3 p.m.  – Quick Cash Raffle Drawing LIVE on Facebook
March 28 –Wahlert Catholic Youth Baseball Camp
April 4  – Circle of Celebration and the Grand Prize Quick Cash Raffle Drawing
Dubuquers + Cordobeses 2020 – Welcome a Spanish student into your home!
Would your family like to host a student from Spain for a week in April? 15 students from Cordoba, Spain, ages 14-15 will be visiting Dubuque from April 22 to 28, 2020.
We are seeking host families to open their homes to a visiting student and provide transportation to Wahlert Catholic High School (2005 Kane Street, Dubuque) each morning throughout the week. In addition, host families would be encouraged to share local culture and activities with their Spanish visitors!
If you have any questions, please contact us:
Fill out the host application form so we can begin to match students with host families!
Join our Early Childhood Team!
Did you know that full-time Holy Family Early Childhood Associates earn a K-12 tuition discount?
St. Joseph the Worker is seeking caring, nurturing, energetic and dependable early childhood associates who love to work with children. Full-time and Part-time positions are available with a starting wage of $10.00 per hour.
Full-time benefits include generous paid time-off, benefit dollars, and a tuition discount for the K-12 programs at Holy Family Catholic Schools. Group insurance plans are also available.
Holy Family Early Childhood associates care for our littlest Golden Eagles while they plan and carry out daily activities, prepare games and materials, and set up learning centers. They help with the day-to-day tasks that create a welcoming and nurturing atmosphere.
Early childhood experience is preferred. Though training will be provided for the right candidates.
Share this opportunity with someone you think would be great for the job or APPLY TODAY! Contact Joann O'Connell at joconnell@holyfamilydbq.org or 563-582-1246.
Lenten Family Calendar
The Holy Family Religion and Mission Committee has prepared this Lenten Family Calendar to help guide your family's journey through this season of repentance.
Instead of giving something up this Lent, we challenge you to make a concerted effort to engage in activities that will help you and your children to grow in your faith.
Attend Mass every weekend – Pastors and fellow parishioners who are financially invested in your child's education hope to witness a greater commitment to the Sunday assembly by the very families that benefit from their investment in Holy Family Catholic Schools.
Commit to attending a retreat or to reading a spiritual book or to setting aside time for prayer each day.
Pray for your children during Eucharistic Adoration, held each Monday in the Wahlert-Mazzuchelli chapel.
This Lent, give yourself the gift of peace and time by slowing down and reconnecting with God.
Your Holy Family Catholic Schools Religion and Mission Committee wishes you and your family a peace-filled Lenten season, and we hope you enjoy the Lenten Family Calendar.
The Quick Cash Raffle is a "sweetheart" deal
At only $50 per ticket and FIVE chances to win, this year's Quick Cash Raffle is a "sweetheart" deal. Purchase tickets now, and feel the love for all FIVE drawings!
Purchase before March 2 to be entered in all drawings
More prize money – we're giving away $40,000
This year, tickets are only $50 – buy two and double your odds
No handwritten tickets – we'll fill them out for you!
Wahlert Catholic Youth Baseball Camp
The Wahlert Catholic Baseball Team is hosting its fifth-annual youth baseball camp on Saturday, March 28, 2020. Two sessions will be held as follows: Grades 1–3, 9:00–11:30 a.m. and 4–7 from 12:30–3:00 p.m. This camp will be located inside the gymnasiums and batting cage at Wahlert Catholic High School. Spots limited to the first 60 registrants for each session!
Click here for the registration form and more details
Golden Eagles Wrestling Club
Folkstyle, Freestyle, and Greco Roman wrestling. Fall / Winter Training Schedule 2019-2020:
Session 2: Jan. 7 – Feb. 27, 2020
* When school is canceled for weather, practice will also be canceled.
Schedule: Tuesday, and Thursday nights from 6:00–7:15 p.m.
Age: K–8th grade
Location: Wahlert Catholic High School Wrestling room
Cost: $60 per session, or $100 for both. Sibling discount – buy one get one 50% off
How to Join: Fill out a waiver and show up for practice. Sign in each day before practice. Attendance prizes will be awarded at the end of the year pizza party. Each practice attended gives you an additional chance to win at the end of the year drawing for a number of prizes including a game counsel of your choice.
Curriculum: This session will include Folkstyle techniques, tactics, and training. The practices will contain a mixture of technique, live wrestling, as well as strength, conditioning, and gymnastic exercises.
Meet the Coaches:
Wil Kelly – Wrestled at Wartburg College and U of Iowa
Brit Barstow – Wrestled at Wartburg College
Dan Wagner – Wrestled at the University of Dubuque
Questions: Contact coach Kelly 319-504-3008 – Texts are great otherwise
call after 5:30 p.m. Monday–Friday.
20-21 Elementary Transition Resource Page
Holy Family has created a webpage that will serve as a hub for up-to-date transition resources for families at each of our elementary schools, including important information and dates, upcoming events, and frequently asked questions. The webpage will be updated as new information becomes available and as developments occur. These developments will also be shared through other communication channels such as email and social media.
Visit the Transition Resources page
Holy Family Personalized Learning News & Updates:

"Prepared" by Summit Learning Founder Tops Bill Gates Year-End Booklist
"I expect many readers of Diane's book will wonder how their kids can have the same extraordinary learning experiences as Summit students." –Bill Gates
Looking for a good book to help start 2020 on the right note? You might want to check out one of Bill Gates' end-of-year booklist top picks: "Prepared" by Summit Learning founder Diane Tavenner. We're excited for more people to learn about the remarkable model that drew us to a partnership with Summit Learning.
Check out Bill Gates' review of Prepared
Personalized Learning Q&A
To support a greater understanding of Holy Family's unique personalized learning philosophy and academic vision, our summer Personalized Learning Q&A series addressed frequently asked questions and common misconceptions. Here we'll share some of the questions we've frequently heard our answers. As always, our school principals are happy to chat if you have further questions about personalized learning at Holy Family!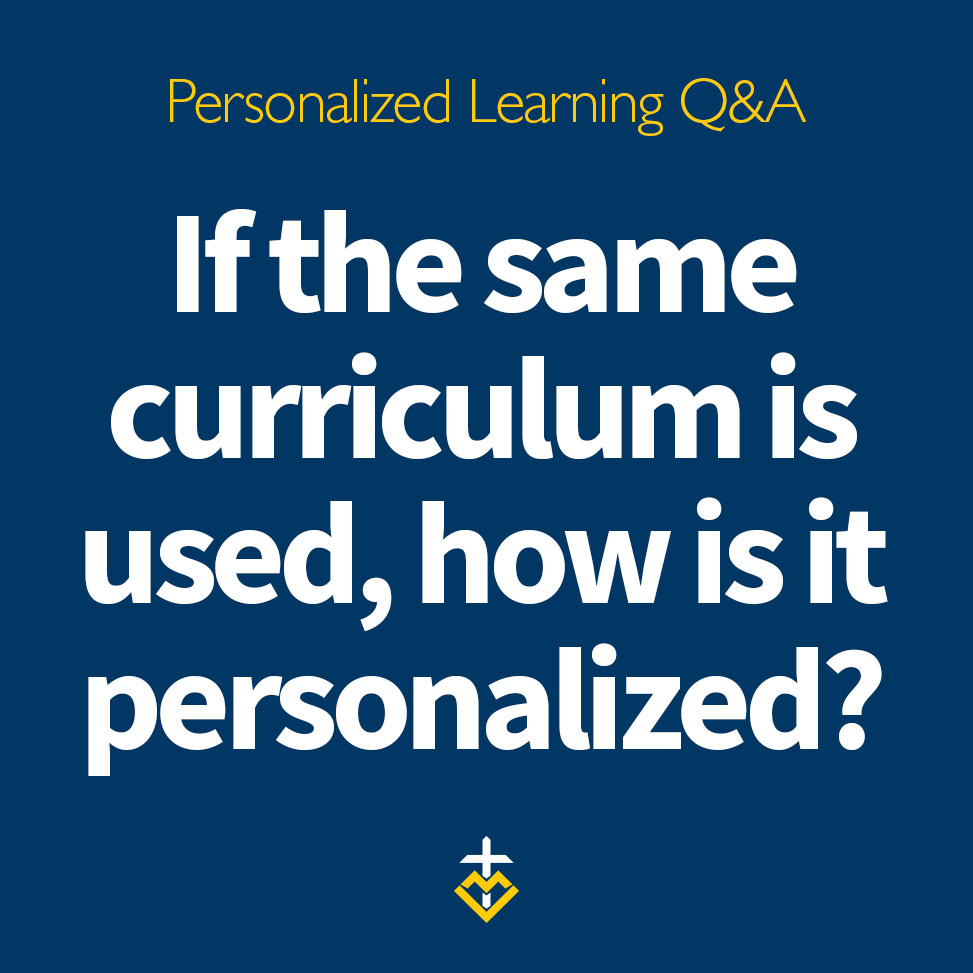 If the same curriculum is used, how is it personalized?
Personalized learning at Holy Family places a strong emphasis on project-based learning. Through their projects, students have autonomy in the way they showcase their understanding of the skills they have learned. Recognizing that every student may have a different level of understanding and skill with any given subject, instruction is individually tailored to ensure we are meeting students where they are at and helping to move them forward.
Regarding content knowledge, it is true that every student accesses the same curriculum, which is aligned to the Iowa core standards. However, the resources students engage and the pace at which they tackle various subjects can also lead to an individualized learning experience.
Finally, students are encouraged to explore their personal interests and are taught how to set and achieve their own educational goals. This is actualized on a more personal and spiritual level as they engage in "faith in action" experiences.