All the School News You Need
This is your one-stop for all school news.  Start by checking the Holy Family news below for system-wide updates. Then, select your school(s) from the menu above to find all the news you need to know in one convenient spot.
Upcoming Dates:
June 2 – Last day of school
June 2 – 3–7 p.m. material pick-up/drop-off system-wide
June 3 – 9 a.m.–1 p.m. material pick-up/drop-off system-wide
June 15 – Registration opens for July Summer Camps
June 20 – Wahlert Graduation (Plan A)
July 6 – Registration opens for August Summer Camps
August 1 – Wahlert Graduation (Plan B)
August 3 – Wahlert Open Golf Tournament
Elementary Teacher Placements for 2020-2021
With the elementary transitions from Holy Ghost and St. Anthony to Our Lady, Resurrection and St. Columbkille, we know many families are eager to know where our teachers will be assigned for next school year.  We are so happy and relieved to report that we were able to offer contracts to all teachers who wished to continue their ministry at Holy Family next year!
If you have any questions about elementary teacher placements, please contact your school principal.
Kindergarten

Barb Klein

Mary Lou Johnson

Kelsea Bellows

Sara Weires

Laura Ripley

Cami Saenz-Ruiz

--

--

Maria Laso Sanchez

1st Grade

Rose Oswald

Juanita Burke

Lori Obendorf

Barb Rambousek

Bayleigh Esser

Laura Ubeda

Kayla Walleser

Heather Weig

--

2nd Grade

Christy Atkinson

Michele Colbert

Jaime Coll

Christa Feuerhelm

Linda Johnson

Sara Devaney

--

Cathy Krueger

--

Grade 3

Kathleen Nicholson

Rhonda Koppes

Michelle Hartmann

Nancy Sabers

New Teacher

New Spanish Teacher

--

Riley O'Brien

Tara Link

Grade 4

Barb Davis

Ann Callahan

Rucio Sanz

Hayley Foley

Ellen Funke

Erin Diekman

Grade 5

Meagan Herkelman

Megan Knapp

Paula White

Vicki Padilla

New Teacher

Jose Garcia

Special Needs

Dawn Brosius

Carrie Kirkpatrick

Erin Palm

PE

Isaac Cloward/Andy Paulsen

Andy Paulsen

Isaac Cloward

Music

Patti Steines

Ayla Graziano

New Teacher

Art

Lori Lahey

Lori Lahey

Molly McAndrew

ELL Support

Sr. Mary Lee Cox

Andrea Tschiggfrie/Sr. Mary Lee Cox

Andrea Tschiggfrie

Counselor

New Counselor

Kate Burke

Katie Bormann

Tech Support

Shelly Theisen/Jenni Malcom

Shelly Theisen/Jenni Malcom

Shelly Theisen/Jenni Malcom

Library Associate

Beth Stenoish

Carol Woolf

Pam Unsen

School Associates

Julie Hill

Cheryl Hemann

Katie Bellini

Caroline Mockler

Melissa King

Josefina Medellin

Beth Yaeger

Jennifer Specht

Celina Meza

Christine Ripperger

Tammy White

Liliana Peterson

Jodi Warden

Therese Rix

Tammy Schaefer

--

--

Rafael Jaume

Administrative Assistant

Lee Ann Volkert

Anna Vallee

Jodi Sigwarth

Principal

Denise Grant

Barb Roling

Carolyn Wiezorek
End-of-Year Material Drop-off/Pick-up
Each school will hold two drop-off/pick-up days at the end of the year to return school-owned materials and collect personal items remaining at school. You may visit your child(ren)'s school(s) on either June 2 or 3 according to the schedule below.
Pre-K–Grade 5
Please return school textbooks (math and K–2 religion workbooks may be kept; 3–5 religion workbooks should be returned), library books, Chromebooks and chargers, and any other items you think may belong to the school. Any personal items your child may have left in the building will be packaged for pick-up and labeled with his or her name.
Elementary materials will be exchanged curbside. Please drive-up to the following locations and a staff member will bring your items to your car and collect items you are returning.
– Holy Ghost: W. 30th main entrance
– Resurrection: Door #2
– St. Anthony/Our Lady: St. Anthony entrance
– St. Columbkille: Rush St. main entrance
Grades 6–11
Secondary students should return textbooks, library books, payment of outstanding fees (academic and/or athletic), and other school-owned materials. You have the option to keep Chromebooks or check them in to be stored during summer break. Students not returning to Holy Family next school year must turn-in Chromebooks and chargers.
Middle and high school students should enter through their respective main entrances (Mazzuchelli students should not enter through Wahlert or vice versa). Students should enter the building on their own to support social distancing.
Grade 12
Supply pick-up/drop-off will be held on Friday, May 29. Click here for more details.
SCHEDULE
Pre-K–11th-grade drop-off/pick-up schedule options, according to your child's last name:
3 to 7 p.m. on Tuesday, June 2
A–F – 3–4 p.m.
G–L – 4–5 p.m.
M–R – 5–6 p.m.
S–Z – 6–7 p.m.
– OR –
9 a.m. to 1 p.m. on Wednesday, June 3
A–F – 9–10 a.m.
G–L – 10–11 a.m.
M–R – 11 a.m.–12 p.m.
S–Z – 12–1 p.m.
If you do not have materials to return or collect, you do not need to attend either day. If you do have materials to return or collect, but neither day suits your family's schedule, please contact your school principal to make alternative arrangements.
CYBER - PHONE-A-THON
Springtime is traditionally busy with school fundraisers through events such as elementary walkathons, the MazzMudder, and the Holy Family student phone-a-thon.
If you typically give to our schools during a walk-a-thon, Mudder or phone-a-thon, we are asking you to consider supporting still. Any money raised today during our community-wide Spirit Week walk-a-thon, will be directed to the financial assistance fund.
If you typically gave to our schools during a walk-a-thon, Mudder or phone-a-thon, we are asking you to consider supporting still. Any money raised today during our community-wide Spirit Week walk-a-thon, will be directed to the financial assistance fund.
Or send a check with your donation to:

Holy Family Catholic Schools, Attn: Cyber Phone-a-thon

2005 Kane Street, Dubuque, IA 52001
Summer Camp Update
Registration is now open for a limited selection of Virtual Summer Camps in June.
Due to COVID-19, camp registrations will be rolled out monthly. Remaining academic camps will be moved to later dates, converted to a virtual format, or canceled if necessary.
Since athletic camps can't be held virtually, we will delay registration until the high school state associations make a decision regarding summer sports in May. If the state deems it unsafe, and summer sports cannot compete in June, neither will our summer camps. We will then look at the possibility of rescheduling those to later in the summer.
Visit the Summer Camp page for updated information and registration for the following June Virtual Camps:
Calligraphy Workshop (On-Demand through June) – Incoming Grades 6 and up
Camp Creamery Theater Camp (6/8-6/12) – Ages 7 and up
Code Camp – JavaScript (6/8-6/11) – Incoming Grades 4–6
Invent STEM (6/18, 6/25, 7/2) – Ages 10–14
3D Printing Workshop (6/22 & 6/24) – Incoming Grades 3-8
3D Printing Workshop (6/29 & 7/1) – Incoming Grades 3-8
July Registration Postponed:
July academic and athletic camps are scheduled. Registration for July camps will open on June 15, so that Holy Family may receive additional guidance on proper social distancing and capacity limits on classes. July camp offerings can be reviewed at holyfamilydbq.org/summercamps. Registration is now open for June camps which are all held virtually.
If you have any questions about Summer Camps, please contact Rebecca Mueller at rmueller@holyfamilydbq.org.
Holy Family Personalized Learning News & Updates:
From Personalized Learning to Virtual Learning
Personalized learning at Holy Family has been a huge asset in our transition to a successful virtual learning experience. The skills and habits our students have learned in the classroom, and continue to practice in their "virtual classrooms" each day, help them become self-directed and personally invested in their education. Mentors continue to provide the one-on-one support our students need in this trying time. The Summit Learning platform offers seamless access to our quality curriculum and an open line of communication between teachers, students, and families. And the real-time data available to our teachers help them monitor and support individual student progress – just like they always have!
FREE Book!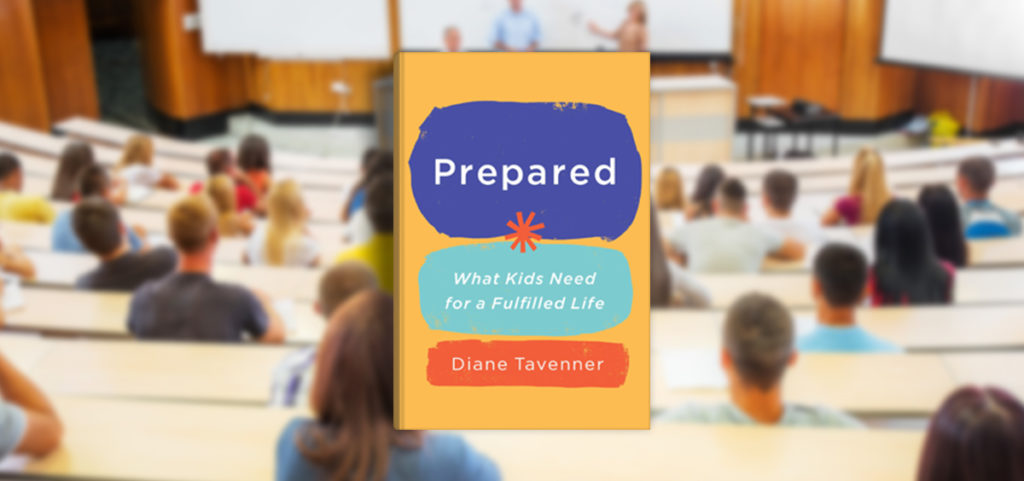 Looking for a good book to read while you're stuck at home? Stop by the Holy Family central office at 2005 Kane St., Dubuque, to pick up a copy of Prepared by Summit Learning founder Diane Tavenner (sitting in the entryway, while supplies last!) In December 2019, Bill Gates featured Prepared on his holiday reading list.
Diane Tavenner started Summit Learning because of her personal passion to "do whatever it takes" to support all students. You'll enjoy her perspective on education from the viewpoint of a teacher, administrator, and a mom. We think you'll find Diane has wise words for educators and parents alike.
In sharing Prepared, we hope to help the community understand the story behind Summit Learning and how it has grown over the course of almost 20 years to become a remarkable model for schools throughout the country, including Holy Family. We hope you find a connection between Diane's story and Holy Family's tireless pursuit of excellence, as we work to ensure our students are Prepared for a fulfilled life.
If you enjoy the book, please share it with a friend!
Read Bill Gates' review of Prepared at gatesnotes.com/Books/Prepared.