All the School News You Need
This is your one-stop for all school news.  Start by checking the Holy Family news below for system-wide updates and Personalized Learning news. Then, select your school(s) from the menu above to find all the news you need to know in one convenient spot.
Holy Family News:
Upcoming Dates:
June 10-14, 8 a.m.–4 p.m. – School uniform swap, Wahlert Catholic High School – Room #115
July 2, 6:30–8:00 p.m. Community input session on Recruitment and Retention (Please note rescheduled date!)
July 22-26, 8 a.m.–4 p.m. – School uniform swap, Wahlert Catholic High School – Room #115
July 23, 6:30–8:00 p.m. – Community input session on Academics and Activities
September 3, 6:30–8:00 p.m. – Community input session on Finances and Facilities
September 24, 6:30–8:00 p.m. – Community input session on Talent
June 10, 1–8 p.m. – 42nd Annual Wahlert Open Golf Tournament
News:
School Uniform Recycle Event!              
Mon – Fri, June 10-14
Mon – Fri, July 22-26
Hours: 8:00 a.m. – 4:00 p.m
Location: Wahlert Catholic High School – Room #115,  2005 Kane Street
Donate your used Holy Family uniforms or stop by and pick up some items for next school year!
All uniform items are no charge and there is no limit on the number of items you can select. You do not have to donate items to pick up items. 
Uniform samples from the Holy Family eStore will also be available to try on.
Donations of the following used items will be accepted:
Holy Family crested and non-crested school-approved uniform tops – polos, oxfords, sweatshirts, sweaters, jackets/pullovers
School-approved uniform bottoms
All items must be gently used, clean and in good condition – Items with stains, rips or tears will not be accepted!
Donations will be accepted before June 10 and during each event.  Donated items should be dropped off at the Holy Family Catholic Schools Offices located at 2005 Kane St. (door to the left of the main Wahlert entrance).
Any questions? Contact Tessa Petsche at tpetsche@holyfamilydbq.org or call 563-582-5456.
Holy Family Uniform Orders
A wide variety of dress code approved uniform items featuring the Holy Family official logos can be purchased online at holyfamilydbq.org/resources/uniforms/ through the Holy Family eStore or Lands' End School. Crested uniform apparel is only required at the middle school and high school level, but all sizes K-12 are available.
All orders purchased through the Holy Family eStore must be placed by August 1 for delivery before the 2019-2020 school year begins.
School uniform samples available through the eStore can be viewed all summer long at the Holy Family Catholic Schools Offices located at 2005 Kane St. Office hours are Monday – Friday from 7:30 a.m. – 4:00 p.m. Sizing varies greatly by item, so please be sure to bring your student(s) in for a fitting.
Lands' End Fit Kits are also available at the Holy Family Catholic Schools Offices to help determine the appropriate size. All items purchased through Lands' End School will be shipped directly to your home. Please allow for a turnaround time of 5-7 business days for Lands' End purchases.
If you have any questions regarding Holy Family uniforms, please contact Tessa Petsche at tpetsche@holyfamilydbq.org or call 563-582-5456.
Are you curious about Italian culture?
Host an Italian student for the 2019-2020 school year.
We are looking for a loving host family for Matteo from Italy. He is excited to experience American life, school, and culture.
International students have medical coverage, local support and bring their own pocket money. Hosting a student from another part of the world is a life-changing experience that creates a lifelong friendship.
Matteo is 17 years old. He says the most important things to him are his family, friends, school, and swimming. He practices swimming five times a week because he says it frees his mind. Matteo has been dreaming of becoming an airline pilot since he was a child. He is a very good chef and makes the best risotto! He can't wait to cook some dishes for you and learn to cook you specialties.
If you are unable to host but have friends who might appreciate the opportunity, please share this post to help make his dream come true!
If you have questions or would like more information, please contact us at admissions@holyfamilydbq.org.
If you are interested in learning more, please contact the Holy Family admissions office at 563-582-5456 or admissions@holyfamilydbq.org.
Strategic Planning Community Input Session II: Retention & Recruitment of students
UPDATED MEETING TIME: Please join us on Tuesday, July 2, from 6:30 to 8:00 p.m. for the second in our five-part Strategic Planning community input series. The meeting will focus on our second strategic priority: Retention and Recruitment of students.
The schedule for the remaining community input sessions is as follows:
C – Catholicity – Tuesday, May 28
R – Retention & Recruitment of students – Tuesday, July 2
A – Academics and Activities – Tuesday, July 23
F – Finances and Facilities – Tuesday, September 3
T – Talent – Tuesday, September 24
All meetings will be held from 6:30 to 8:00 p.m. in the Kehl Family Commons at Wahlert Catholic High School, 2005 Kane St., Dubuque. No registration is required. We hope you will join us in this important process.
You can still register for Summer Camps!
Registration is now open for Holy Family's 2019 Summer Camp season.  This year, Holy Family will be offering 40 exciting camps, including academic, arts and athletic offerings for students in preschool through 12th-grade.  Several camps filled up fast, but new sessions have been added.  Keep your eye on what's new!
Click here for the full guide to our 2019 camp offerings and registration.
You can Earn Referral Credits!
Parents of Holy Family students are the best advocates of our schools. To show our appreciation for your support and to thank you for your trust and confidence, we want to reward you! Your family will receive a $100 tuition credit for helping us identify new families to Holy Family Catholic Schools. Visit holyfamilydbq.org/referral for more information or to refer a new family today!
Holy Family Personalized Learning News & Updates:
A Message from Lisa Krapfl –
Proud Moment
One more week and no rest for anyone involved in personalized learning! Students, teachers, mentors, and administrators are working hard to end the year with maximum effort and growth. As I sit here and write this, I reflect on my morning when two students who came to the door of a classroom (before school had even started) while I was meeting with teachers. These students wanted to get started on their math! They were not asked by teachers to come in early, nor was it required. These students were showing self-direction and academic tenacity to get started on goals they had set for the end of the year. I share this proud moment with you to reiterate the long-term habits and skills our students gain in the personalized learning program.
Strength in Numbers
Imagine having the strength of collaborating and communicating with over 340 schools and 3,790 educators nationwide. Imagine the progress and improvements that can be made with professionals from not only schools, but school partners through Summit Learning such as the:
Buck Institute for Education
Stanford SCALE project (Stanford Center for Assessment, Learning, and Equity)
Harvard Center for Education Policy Research
Yale Center for Emotional Intelligence
Center for Curriculum Redesign
And many more!
As you can see, we have an amazing professional learning community and know that it will continue to improve with each year moving forward. Already, we have been informed of updates and additions to the curriculum for 2019-2020 school year. The best part is that we have all of these resources to support us and yet, we at Holy Family, can and will make it all uniquely ours. Please know that our commitment to our students' growth academically, socio-emotionally, and spiritually never has and never will waiver. WE are Holy Family strong!
Personalized Mathematics Courses Explained
Personalized Learning is exciting to many because it allows students to move at their own pace in the power and additional focus areas. We love this, and yet we know that this is not the only facet of personalization we desire. We want to support students in learning all concepts in depth and challenge all students in the way that works best for them. Some of this is carried out through the teacher-led math lessons during Concept Units and Concept Unit Assessments. Some of this is carried out through our teachers creating additional experiences for students.
The math program in personalized learning can be visualized more easily be looking at this diagram. This diagram shows the progression of math coursework.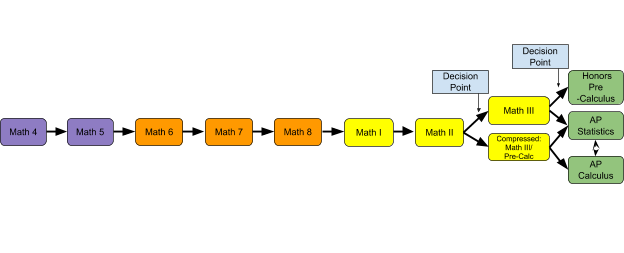 It is important to understand the philosophy behind courses called "Integrated Mathematics I," "Integrated Mathematics II," and "Integrated Mathematics III" for high school credit. Basically, these three courses take the more commonly known sequence of Algebra, Geometry, and Algebra 2 and integrates them throughout three years. Students receive instruction and practice in every math every year in an integrated and relevant way. At the end of the three years, these students have received "credit" for Algebra, Geometry, and Algebra 2 under the integrated titles. The value of this approach is that students are engaged in increasingly more rigorous content and concepts in all three areas each and every year. In addition, these mathematics concepts are integrated as one would find problems to be solved in life. It is not only challenging work, but students don't find themselves asking, "Where will I ever use this?" The integrated approach brings all of this together.
As always, please don't hesitate to reach out if you have any questions.
Thank you,
Lisa Krapfl
Director of Personalized Learning
lkrapfl@holyfamilydbq.org
Check out the Habits of Success these personalized learning students are celebrating!
Personalized Learning Insider:
Archived HFCS & Personalized Learning News: