All the School News You Need
This is your one-stop for all school news.  Start by checking the Holy Family news below for system-wide updates. Then, select your school(s) from the menu above to find all the news you need to know in one convenient spot.
Upcoming Dates:
March 16 at 3 p.m.  – Quick Cash Raffle Drawing LIVE on Facebook
March 16–20 – No School – Spring Break
March 23 at 3 p.m.  – Quick Cash Raffle Drawing LIVE on Facebook
March 28 –Wahlert Catholic Youth Baseball Camp
April 4  – Circle of Celebration and the Grand Prize Quick Cash Raffle Drawing
April 6 – 2020 Summer Camp registration opens
April 10 – No School – Good Friday
April 13 – First day back from four-week closure
April 15 – STO Tuition Assistance Deadline
COVID-19 Updates
Holy Family is operating in a state of preparedness and continues to work closely with Dubuque County Public Health, the Iowa Department of Public Health (IDPH), and the Dubuque Community School District to monitor the spread of coronavirus (COVID-19) and stay up-to-date with this rapidly-evolving public health crisis. System leadership is meeting routinely to monitor the situation to make plans that best ensure the health and safety of our students and staff.
We will share updates each weekday, as the crisis persists, to keep you informed of plans and developments that will impact Holy Family Catholic Schools.  We have also established a page on our website that will serve as the central reference point for updates from the system.
Stay informed: holyfamilydbq.org/covid-19-updates.
FREE Book!
Looking for a good book to read over spring break? Stop by the Holy Family central office at 2005 Kane St., Dubuque, or your school office (after spring break) to pick up a FREE copy of Prepared by Summit Learning founder Diane Tavenner (while supplies last!) In December 2019, Bill Gates featured Prepared on his holiday reading list.
Diane Tavenner started Summit Learning because of her personal passion to "do whatever it takes" to support all students. You'll enjoy her perspective on education from the viewpoint of a teacher, administrator, and a mom. We think you'll find Diane has wise words for educators and parents alike.
In sharing Prepared, we hope to help the community understand the story behind Summit Learning and how it has grown over the course of almost 20 years to become a remarkable model for schools throughout the country, including Holy Family. We hope you find a connection between Diane's story and Holy Family's tireless pursuit of excellence, as we work to ensure our students are Prepared for a fulfilled life.
If you enjoy the book, please share it with a friend!
Read Bill Gates' review of Prepared at gatesnotes.com/Books/Prepared.
Announcing 2020 Summer Camps!
Holy Family Catholic Schools offers the area's premier selection of academic and athletic day camps to keep your child(ren) active and engaged all summer long.  You'll find camps for all interests and age groups. Browse the 2020 Summer Camps listings now! Registration has been delayed and will now open on April 6.
Quick Cash Raffle
Quick Cash Raffle tickets are still on sale (only $50 each)!
Tune in for LIVE drawings on Facebook at 3 p.m. on:
Monday, March 23 - $2,000
Grand Prize drawing at Circle of Celebration on Saturday, April 4 - $20,000
Lenten Family Calendar
The Holy Family Religion and Mission Committee has prepared this Lenten Family Calendar to help guide your family's journey through this season of repentance.
Instead of giving something up this Lent, we challenge you to make a concerted effort to engage in activities that will help you and your children to grow in your faith.
Attend Mass every weekend – Pastors and fellow parishioners who are financially invested in your child's education hope to witness a greater commitment to the Sunday assembly by the very families that benefit from their investment in Holy Family Catholic Schools.
Commit to attending a retreat or to reading a spiritual book or to setting aside time for prayer each day.
Pray for your children during Eucharistic Adoration, held each Monday in the Wahlert-Mazzuchelli chapel.
This Lent, give yourself the gift of peace and time by slowing down and reconnecting with God.
Your Holy Family Catholic Schools Religion and Mission Committee wishes you and your family a peace-filled Lenten season, and we hope you enjoy the Lenten Family Calendar.
Join our Early Childhood Team!
Did you know that full-time Holy Family Early Childhood Associates earn a K-12 tuition discount?
St. Joseph the Worker is seeking caring, nurturing, energetic and dependable early childhood associates who love to work with children. Full-time and Part-time positions are available with a starting wage of $10.00 per hour.
Full-time benefits include generous paid time-off, benefit dollars, and a tuition discount for the K-12 programs at Holy Family Catholic Schools. Group insurance plans are also available.
Holy Family Early Childhood associates care for our littlest Golden Eagles while they plan and carry out daily activities, prepare games and materials, and set up learning centers. They help with the day-to-day tasks that create a welcoming and nurturing atmosphere.
Early childhood experience is preferred. Though training will be provided for the right candidates.
Share this opportunity with someone you think would be great for the job or APPLY TODAY! Contact Joann O'Connell at joconnell@holyfamilydbq.org or 563-582-1246.
20-21 Elementary Transition Resource Page
Holy Family has created a webpage that will serve as a hub for up-to-date transition resources for families at each of our elementary schools, including important information and dates, upcoming events, and frequently asked questions. The webpage will be updated as new information becomes available and as developments occur. These developments will also be shared through other communication channels such as email and social media.
Visit the Transition Resources page
Holy Family Personalized Learning News & Updates:

"Prepared" by Summit Learning Founder Tops Bill Gates Year-End Booklist – Pick up your

FREE BOOK

in the Wahlert Catholic High School Office!
"I expect many readers of Diane's book will wonder how their kids can have the same extraordinary learning experiences as Summit students." –Bill Gates
Looking for a good book to help start 2020 on the right note? You might want to check out one of Bill Gates' end-of-year booklist top picks: "Prepared" by Summit Learning founder Diane Tavenner. We're excited for more people to learn about the remarkable model that drew us to a partnership with Summit Learning.
Check out Bill Gates' review of Prepared
Personalized Learning Q&A
To support a greater understanding of Holy Family's unique personalized learning philosophy and academic vision, our summer Personalized Learning Q&A series addressed frequently asked questions and common misconceptions. Here we'll share some of the questions we've frequently heard our answers. As always, our school principals are happy to chat if you have further questions about personalized learning at Holy Family!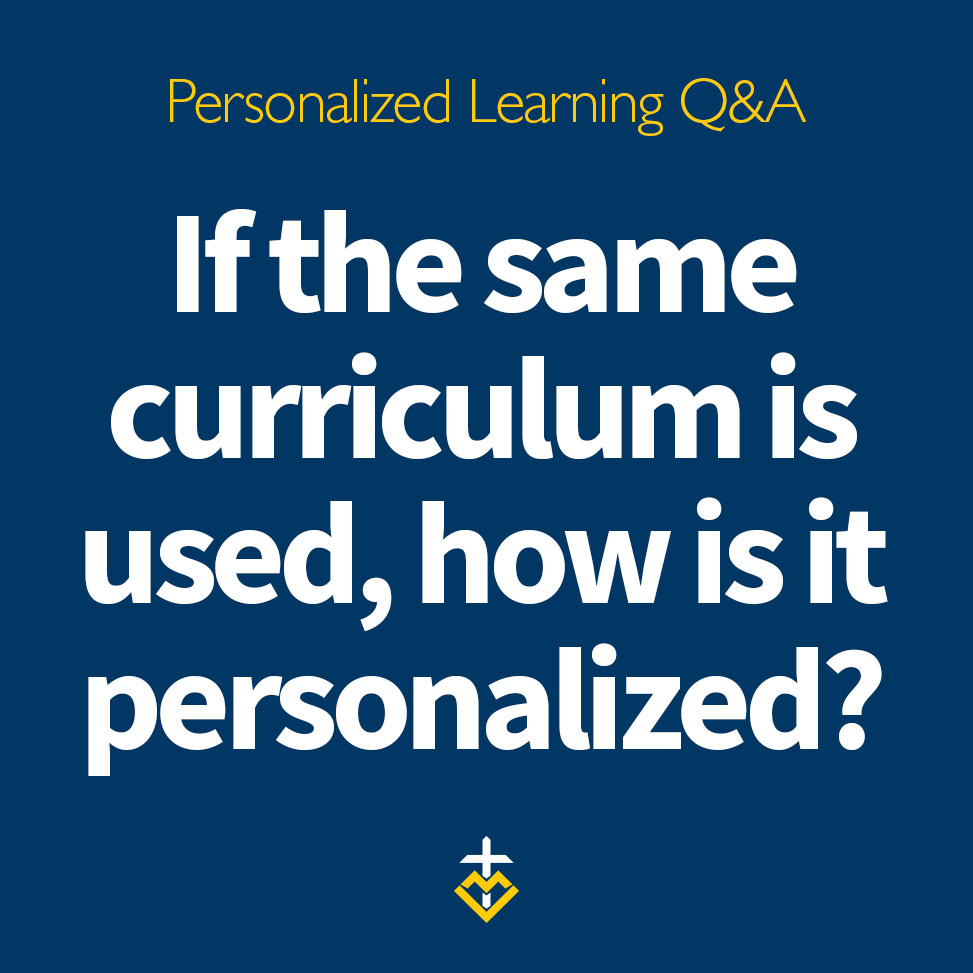 If the same curriculum is used, how is it personalized?
Personalized learning at Holy Family places a strong emphasis on project-based learning. Through their projects, students have autonomy in the way they showcase their understanding of the skills they have learned. Recognizing that every student may have a different level of understanding and skill with any given subject, instruction is individually tailored to ensure we are meeting students where they are at and helping to move them forward.
Regarding content knowledge, it is true that every student accesses the same curriculum, which is aligned to the Iowa core standards. However, the resources students engage and the pace at which they tackle various subjects can also lead to an individualized learning experience.
Finally, students are encouraged to explore their personal interests and are taught how to set and achieve their own educational goals. This is actualized on a more personal and spiritual level as they engage in "faith in action" experiences.