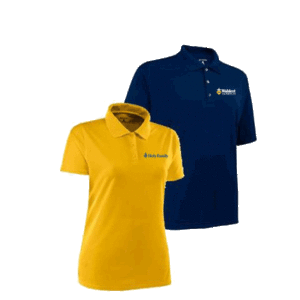 Our uniform e-store has a NEW look! We hope you enjoy the new streamlined shopping experience. Account logins are no-longer required.
If you have any questions, please don't hesitate to contact us at 563-582-5456 or view the Uniform Store Tutorial for step-by-step instructions on how to place your uniform order.
---
Using the Holy Family Uniform Store, you can buy a variety of dress code apparel items featuring any of Holy Family's official logos. Crested uniform apparel is only required at the middle school and high school level, but is available in all sizes K-12.
Uniform orders are submitted for processing on the 10th of every month unless otherwise noted, with all orders expected to be fulfilled and delivered to your pickup location by the end of the month. 
Not sure what size you need? Measurements are listed under each item to help determine size. Uniform samples can also be viewed year-round at the Holy Family Catholic Schools Office located at 2005 Kane St. Stop by during regular business hours (7:30 a.m. – 4 p.m. weekdays).
We encourage you to measure your child or view samples before ordering. Returns are not accepted for Uniform Store items that have been embroidered with a logo. 
A limited stock of men's, women's and youth polos are available for purchase at the Holy Family Central Office, 2005 Kane St. Cash or check only. Please stop by to see available options.