At Holy Family, we understand firsthand that choosing a private Catholic education is a big commitment. We also know that what is truly valuable often requires some form of sacrifice, and we are committed to making sure that every dollar you invest in your child's future through Holy Family Catholic Schools helps to enrich the lives of your family.
At Holy Family, thanks to our supporting parishes, no family pays the full per-pupil cost-to-educate. Families who are active parishioners of a supporting parish are awarded with a greater parish subsidy, which is reflected in our tiered tuition rates.
| | | | | |
| --- | --- | --- | --- | --- |
| Elementary (K-5) | $7,908 | $5,010 | $5,435 | $6,210 |
| Mazzuchelli Catholic Middle School (6-8) | $8,803 | $5,570 | $5,995 | $6,770 |
| Wahlert Catholic High School (9-12) | $11,202 | $7,400 | $7,825 | $8,600 |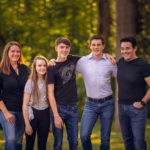 "I am so thankful for the solid AP and dual enrollment options at Wahlert Catholic High School. If one assumes the average cost of tuition, room and board, fees and books at college is $30,000 per year, we have more than broken even when looking at Wahlert tuition paid over four years versus the amount of college credit our son graduated with from Wahlert. He will come into college with 41 credits from AP and college classes.  10 of them are from AP Spanish alone.  All of freshman year and half of sophomore year are complete before setting foot on campus thanks to these offerings. And this doesn't even take into consideration the scholarships earned from being academically well prepared at Wahlert. We are thankful!"
– Cheryl, Holy Family parent
What does "supporting" or "non-supporting" mean?
A "supporting" parish is one of the 11 parishes in Dubuque that make a financial contribution to our schools every year. A "non-supporting" parish is a Catholic parish outside of this corporation.
The following are Holy Family supporting parishes:
Holy Spirit (Holy Ghost, Holy Trinity, Sacred Heart)
St. Catherine
Holy Family New Melleray
St. Columbkille
Church of the Nativity
St. Joseph Key West
Church of the Resurrection
St. Joseph the Worker
St. Anthony
St. Patrick St. Raphael Cathedral
FACTS Tuition Management
Holy Family is partnering with FACTS to help manage tuition payments. FACTS Tuition Management offers online payment plans and account management, email or text reminders before your payment due date, flexible payment options and secure payment processing.