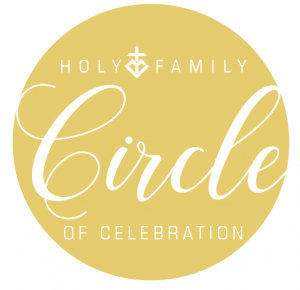 Save the Date: April 1, 2023
THANK YOU
Being together again for Circle of Celebration sure felt good! We were thrilled to see so many families, staff members and supporters come together in one place to celebrate and lift up our outstanding schools. We celebrated our system's many accomplishments of the past year, recognized some remarkable individuals, and heard a heartening story of what it means to be part of this community from a student's perspective. Circle 2022 was incredible!
Contributors from near and far stepped forward to participate in many ways ensuring Circle of Celebration continues to stand alone as Holy Family's strongest driver of the Student Impact Fund, which closes the gap between tuition and the true cost to educate. Because of you...
Circle of Celebration 2022 raised more than $515,000!
We are humbled and deeply grateful. 
Fund-a-Cause | Brain Health
Each year at Circle, we select a key Fund-a-Cause project that will have a deep and lasting impact. This year, Fund-a-Cause will lay the foundation for infrastructure to bolster our students' brain health from professional support to programming to quality nutrition and more. Take a moment to enjoy this short video.
If you did not attend this year's event but would still like to show your support for Holy Family's brain health initiatives, we welcome your contributions. Thank you!
Professional Achievement – Rob McDonald
Rising Young Alumni – Danny Corken '03
Holy Family Catholic Schools Service – Margaret Welter '70
Outstanding Service – Frank O'Connor '61
The Arnie Honkamp Lifetime Achievement Award was also presented to Greg Burbach '76 and David Becker. 
$5,000 – Stacey Hines
$5,000 – Teresa Waller
$5,000 – The family of Werner & Dolores Sigwarth
$5,000 – Sharon Hagel
$20,000 – Mary C. Oglesby
Home Gym – Maggie Kimbro
Tuition Credit – Michael Leppellere
Spring Break – Todd Link
Baseball is Back – Nick Molo
Participating in Circle of Celebration
Event Attendee Activities
Heads or Tails - The all-time fan favorite! Circle attendees pay $20 to join the game and guess their way to winning 50% of the cash collected from participants.
Live Auction - 8-10 exclusive higher dollar items will be auctioned off to those in attendance. Can't make it but see something you're interested in? Ask about entering a bid!
Activities for Everyone (whether you're in attendance or participating remotely!)
Quick Cash Raffle - $40,000 in prizes given away to five lucky winners!
Fund-A-Cause - An opportunity to support a special cause within Holy Family. A presentation is held at the event and shared with the community afterward.
Chance Boards - higher value items with a limited number of chances sold for each item at a fraction of their value.
Silent Auction - Countless interesting items are available to bidders via the mobile auction site.