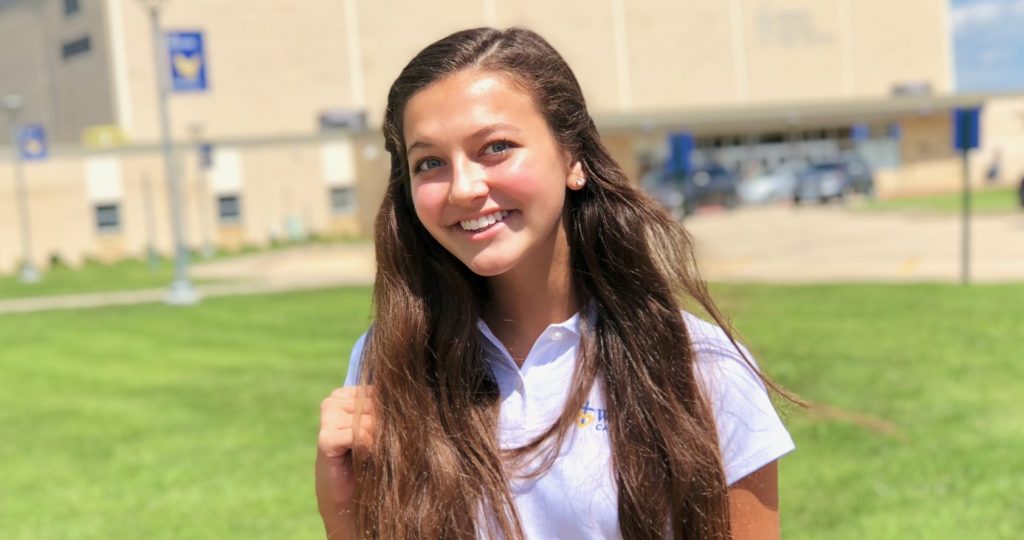 In the spirit of Thanksgiving, Wahlert Catholic freshman Ava Hoelscher shares her gratitude for the Holy Family community whose support has made her high school experience what it is today.  Ava delivered this speech during a donor reception on November 11, 2018, expressing her appreciation for a beautifully renovated school and the opportunity to engage in personalized learning.
Hello. I'm Ava Hoelscher, a ninth grader at Wahlert Catholic High School. As of today, I've been a Wahlert student for 53 days. I spent my first couple weeks of high school learning comfortably in an air-conditioned classroom, unlike my older brother who reminds me how he spent his first weeks of every year sticking to his chair in a steamy classroom. The only time I broke a sweat was when I had to sprint across the entire second floor in one minute. I thought I knew my way around the school until day three when I ended up in a panicked race across the bridge as I tried to reach my classroom; I had completely forgotten that on odd days, seminar meets in between fifth and seventh period.  The next week I was starting my very first Varsity show choir practice. When I walked into the refreshing air-conditioned cafeteria on a hot August evening, an upperclassman told me that practice used to be much more painful in the blistering heat.
Now that I have figured out my schedule, it's easier to "play it cool" when I wave at my new show choir friends in the bright, open hallways. All of these memorable, though sometimes embarrassing, freshman moments would not be a possibility if it weren't for the generosity of our donors. One night I was working concessions at a Wahlert volleyball game when I noticed the large screen directly across from my stand. This screen displays the names of everyone who donated to the capital campaign. The names scrolled on and on showing gifts of many different sizes, and I was struck by the generosity of so many people who came together to transform our school. As a freshman, I will only experience the brightly lit, air-conditioned, high tech school we have today, but that doesn't mean the transformation goes unnoticed. We notice when we walk through the central staircase. We notice when we pray in the chapel. We notice when working in our state-of-the-art science classrooms. We notice every day and we thank you.
Aside from our fabulous new building, the other thing that feels new at Wahlert is personalized learning. I am one of 41 ninth-graders participating in personalized learning at Wahlert. This program combines traditional teaching with individually paced online learning and hands-on projects. In these classes, we work on transferable skills from school to everyday life, such as setting SMART goals, which are specific, measurable, attainable, relevant, and time-based. We set both short and long-term goals; each day we may set a short-term goal such as "Finish Checkpoint 1 of the second English project by Wednesday." We set long-term goals like "Earn an A+ in Modern World History by the end of the year."
When I began my personalized learning classes I felt frustrated because they were so different from what I was used to. In normal classes, we would take notes on lectures and be tested on the information we learned the next week. In personalized learning, the work we do is more unique and based on time-management. It was really odd for me to log on to the platform and see an entire year's worth of work spread out before my eyes. It would stress me out and make me worry that I wouldn't have anything done in time. Now I'm so glad I chose to participate in the program. Each day I feel like I am able to do productive work in class and move at the pace I want. We have the option to work more independently and research on our own instead of being lectured on content we've covered over and over. I'm really glad that Holy Family was able to start this program, as I feel that it has helped me and many of my classmates to become not only smarter but better at time management and goal setting. I know participating in personalized learning at Wahlert will build the knowledge and skills I need to be successful now and in my future.
Thank you for investing in my future and the future of all Holy Family students. We notice and we appreciate your generosity.
– Ava Hoelscher '22
Learn more about personalized learning at Holy Family, or contact us at admissions@holyfamilydbq.org to schedule a personal tour of our schools or student shadow experience today!