An Introduction to Habits of Success
What are Habits of Success?
The Habits of Success we refer to in personalized learning are the social and emotional skills that enable students to be successful at both academic and non-academic pursuits. The field of social-emotional learning (SEL) is awash in terminology to describe factors required for successful learning, outside of traditional
academic skills and Content Knowledge.
After a careful review of existing frameworks, Summit Learning has adopted the Building Blocks for Learning framework developed by Dr. Brooke Stafford-Brizard on behalf of Turnaround for Children (2016). The Building Blocks framework integrates decades of the most promising research on social-emotional learning in an aligned and comprehensive manner. Habits of Success include the development of skills in five categories:
Healthy Development (Attachment, Stress Management, Self-Regulation);

School Readiness (Self-Awareness, Social Awareness/Relationship Skills, Executive

Functions)

Mindsets for Self and School (Growth Mindset, Self-Efficacy, Sense of Belonging,

Relevance of School);

Perseverance (Resilience, Agency, Academic Tenacity); and

Independence and Sustainability (Self-Direction, Curiosity, Sense of Purpose).
We believe that students develop Habits of Success within the communal, relational context of a classroom. While other frameworks focus more heavily on the interaction between a student and his or her individual academic trajectory, our framework situates learning "within the social context of a classroom through a set of key relationships a student develops with teachers, peers, and other adults" (Stafford-Brizard, 2016). The Habits of Success framework was designed with an understanding that foundational skills are prerequisites for higher-order skills; skill development happens on a developmental pathway that integrates cognitive, social, and emotional skills.
The framework acknowledges that children do not always get the same start in life and do not all follow an identical path. It helps provide guidance to educators on how to support students who have experienced trauma and other adverse circumstances.
What is the research base behind Habits of Success?
The 16 skills were chosen based on three criteria:
They align to the development of the child as a "learner" in an educational setting;

They are measurable skills, behaviors, or mindsets that students can develop over time;

There is a strong research base demonstrating impact of the skill, behavior, or mindset on college and career success.
Each skill, which we define as a Habit of Success, draws on its own deep literature and evidence base. For example, the skills considered to be part of healthy development and school readiness are drawn from the fields of neuroscience and child development and include having strong bonds with adults, emotional security, and the skills to cope and manage stress (Stafford-Brizard, 2016). Similarly, the student-held mindsets are derived from the work of Camille Farrington and teammates at the University of Chicago Consortium on Chicago Schools Research. Farrington et al. have demonstrated the relationship between highly-developed habits of success (what Farrington calls "non-cognitive factors") and high levels of student achievement.
Click on the image below for an enlarged outline of the 16 Habits of Success that are integrated into student learning at Holy Family: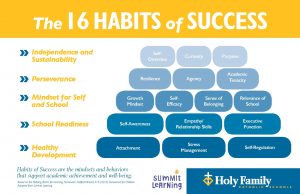 >>Visit our Personalized Learning page to learn more about personalized learning at Holy Family Catholic Schools.