Dealt a spring semester like none we've ever experienced, Wahlert Catholic Assistant Principal Lisa Krapfl reflects on the immediate action taken by faculty and staff in the past two weeks, and the whirlwind process of mobilizing a supportive and comprehensive K-12 virtual learning experience at Holy Family Catholic Schools.
In this time of uncertainty, I have seen numerous stories and examples of communities pulling together to support and care for one another. This certainly rings true in our Holy Family community. I have been fortunate to be among the team of administrators and teachers as we have worked tirelessly in the past two weeks making the transition from school to virtual school. 
During Spring Break, our school leaders planned and paved the way to onboard our staff for this transition. We took our directives from state leaders to offer non-mandated supplementary learning experiences to heart. We created a schedule to offer time, instruction, support, and guidance for our staff to not only learn about virtual meetings but learn other software applications to offer lessons to all students. Meanwhile, teams of teachers, associates, and technology support staff volunteered their Spring Break time to organize supplies and prepare Chromebooks, mobilizing tools and materials for pick up by families at each of our schools.
Last week, our staff came back together to make these plans a reality. Hours of online meetings – whole staff and grade-level teams, student support teams, and subject department teams met to activate our first steps. Within one week, 1) each staff member made phone calls to each and every family to offer connection and support, 2) each staff member invited and led a student mentor small group meeting, 3) each staff member took part in creating plans and workshops for students in need of support, 4) each staff member created at least three optional and engaging, supplemental learning opportunities within their departments, and finally, 5) each staff member learned and used virtual software to schedule/offer class meetings.
Starting this week through April 10, Holy Family students will be able to choose to engage in learning opportunities offered by our staff. In addition, students who could use some time to catch up or need extra help will get just that through help sessions and workshops. 
While we don't know what school life will look like for any of us after April 10, I do know that our staff and students will be ready for it!  And while I am super proud of the great efforts of our staff to make this happen, make no mistake that we'd rather be together in person as a family. Either way, we are a family. We are Holy Family.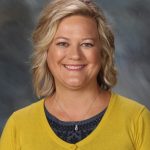 Contributed by Lisa Krapfl.
Lisa is the Assistant Principal at Wahlert Catholic High School. 
Feature image: Wahlert Catholic Sophomore Samantha R. is ready to learn from home!