47th Annual
Thanksgiving Day Turkey Trot
Thursday, Nov. 28, 2019 at Wahlert Catholic High School
Online registration has closed. Please plan to pay in-person at one of the times listed below.
Where:
Wahlert Catholic High School, 2005 Kane St., Dubuque, IA

Ages:
6 years and older

Registration:
Register online or download a hard copy registration form

-OR-

Register in-person:

7–8 p.m. on Wednesday, Nov. 27 in the Wahlert Catholic gym
or 7:30–8:45 a.m. Thursday, Nov. 28 in the Wahlert Catholic gym

Entry Fee:
$10 (cash or a check payable to Wahlert Catholic High School)

T-Shirts:
Long-sleeved poly/cotton t-shirts will be available for purchase. T-shirts can be purchased at bib pick-up, while supplies last. Cost is $20 (limited supply).  Register online and reserve a t-shirt to be picked up the day of the race.  Sizes: YM, YL, XS, S, M, L, XL, XXL

Race Times:
9 a.m. – both the 2.5-mile and 5-mile race will begin at the same time.

Awards:
A certificate for a turkey will be awarded to the first place finisher in each age division of the 2.5 and 5-mile race.

Results:
Stay tuned for results following the race.
Questions? Contact the Wahlert Catholic High School office at (563) 583-9771 during regular school hours, or contact Coach Tim Berning at tberning@holyfamilydbq.org.
2019 Course:
The course is the same for all ages.
2.5 Mile (see map below) – Start in front of Wahlert Catholic and head west on Kane St. go right on Carter Rd. then right on W 32nd St. take a right on North Grandview Ave. go right on Balboa Dr. then right on Kane St. back to Wahlert Catholic for the finish.
5 Mile –  Repeat the 2.5 Mile Loop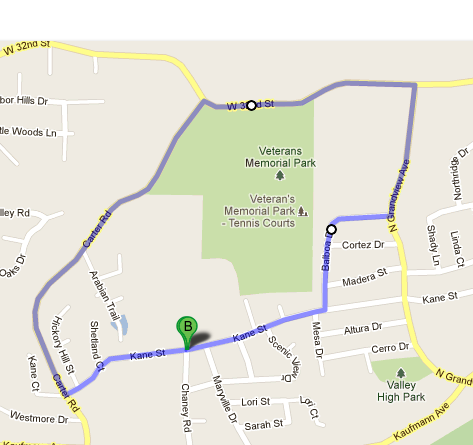 K–5 students: Join the Turkey Trot Running Club and earn a FREE Turkey Trot entry!
We will be offering free running sessions for Holy Family elementary (K–5) students for two weeks in November.
Sessions will meet in the St. Anthony gym/lobby and running will take place on the St. Anthony/OLG running track. Times will be from 3:45–4:45 p.m. on:
Wednesday, Nov. 13
Thursday, Nov. 14
Monday, Nov. 18
Wednesday, Nov. 20
Thursday, Nov. 21
Monday, Nov. 25
If a student attends three or more of these practice session they will receive a free entry into the Turkey Trot on Thanksgiving Day!
Parents will sign their student(s) in on their first night of attendance. Sessions will be led by Chuck Tigges (Wahlert Boys Cross Country coach, Wahlert Girls Track coach, Physical Education teacher at St. Anthony/OLG and Holy Ghost).
Please be sure to dress your student(s) in outdoor apparel! If you have questions, please contact Chuck at ctigges@holyfamilydbq.org.